The youth of Cape Town, South Africa will stand beside Greta Thunberg and other comrades across Europe, Australia and North America in the Global Strike for Climate on Friday 15th March, 2019.
In 1976, South African youth in Soweto led a protest against a blinkered, self-interested government to insist on the survival of their languages. In 2019 we are stepping up to insist on the survival of our generation.
They are calling upon their peers across the continent to rise up and join in protesting the negligence of our leaders to address the environmental crisis, which is exacerbating poverty and inequality. Africa accounts for only 3.8% of the world's greenhouse gas emissions but is far more vulnerable to climate change than the countries who caused it.
Global warming increases the risk of drought, floods and disease. The water shortages, hunger and health risks which result from extreme weather will impact Africa's poor the most. If we continue to do nothing, the continent could soon be facing an unprecendented exodus of eco-refugees and resource wars.
Despite being only the 25th largest population in the world, South Africa is the 14th largest emitter of carbon dioxide. It is time our government stopped making things worse by burning Eskom's dirty coal and trumpeting Brulpadda gas finds.
Last year, the IPCC (the UN's Intergovernmental Panel on Climate Change) said that if we want to keep global warming to no more than 1.5 ˚C by 2100 and avert climate catastrophe, we have to cut carbon emissions 50% by 2030, and 100% by 2050. If every country polluted like South Africa, we'd hit 4˚C for the world, and 8 ˚C for Southern Africa, because our region warms faster.
SA political parties must acknowledge the climate emergency and commit to:
Making climate action the priority of the 2019 election
A moratorium on new coal, gas and oil mining licences
100% renewable energy in the electricity sector by 2030
A Green New Deal* for South Africa
Initiating climate adaptation education in schools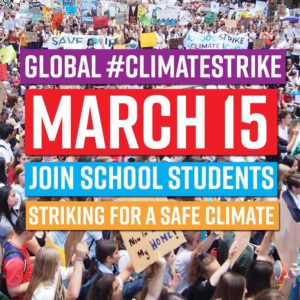 Programme for Friday 15th March :
12 noon Meet under Louis Botha's horse outside Parliament
1.30pm Speakers (tbc) 1. Ruby Sampson, Wynberg Girls 2. Xoli Fuyani, Earthchild 3. Reece Pagel, Ocean View 4. Zoliswa Ngxongo, Masiphumelele 5. Fossil Free SA 6. Extinction Rebellion SA
2-3pm Stageshow (tbc) 1. Da O and Lindo, Masi Massive 2. Zinzi a.k.a. Disaster 3. Sustainable Sarah and Nur Felix 4. Alter Fam
For interviews with Ruby Sampson and other student leaders, contact Sam Pearce or Sarah Farrell.
Conveners:
* Green New Deal addressing climate justice and inequality encompassing ecological restoration, more biosphere reserves, human rights to clean air, water, food security, sustainable agriculture with soil carbon capture, sustainable housing and jobs, affordable low-carbon public transport, plus urgent establishment of environmental and disaster management JOCs at local, provincial and national level.
More info: