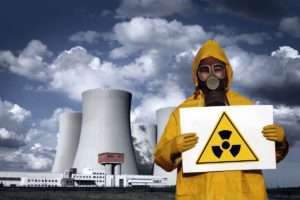 Extinction Rebellion South Africa shares the concern voiced by many people and organizations over Minister Gwede Mantashe's unreasonable fixation on nuclear power.
In May, Minister Mantashe said, when addressing the Portfolio Committee: "We are going to explore all options, when there is appetite for nuclear in the market, we will go ahead with it." Is that a sound plan? Why should we rely on outside markets to dictate the future of energy in South Africa? Should we not base the future of our energy supply on detailed analysis of the cost and benefits of each energy generation
technology?
This type of detailed analysis has already been undertaken, both by the Department of Energy for the development of 2019 IRP and by the Council for Scientific and Industrial Research (CSIR), as well as various other academic and scientific researchers. Any analysis, modelling and scenario planning undertaken in these cases, with no artificial limits placed on the deployment of renewable energy, has never presented a need for nuclear power generation.
The pursuit of nuclear power generation is then motivated by something other than detailed analysis of the cost, benefits and need for such power generation, and this is of serious concern.
On Sunday 14th June, The Department of Mineral Resources and Energy issued a Request for Information (RFI) to commence preparations for a 2500 MW new nuclear build programme. The programme could include conventional pressurised water reactors (PWRs), small modular reactors (SMRs) or a blend of technologies.
Traditional PWRs are not cost-competitive with renewable energy technologies, with the majority of these in construction usually delivered over-schedule and over budget.
SMRs are "newer generation nuclear reactors designed to generate electric power up to 300 MW, whose components and systems can be shop fabricated and then transported as modules to the sites for installation as demand arises".
At present, there are no SMRs commercially available. Billions of dollars have already been spent on trying to commercialise SMRs. Many companies and investors have given up since success is not certain given the huge costs and long time frames needed to bring these reactors to market.
Also, since SMRs do not have the same economies of scale as larger reactors, they produce electricity at a higher cost than other energy sources, including existing commercial reactors. Do we really need MORE expensive electricity?
SMRs also suffer from many of the same problems as large reactors, most notably safety issues and the unresolved problem of what to do with radioactive waste, particularly high-level nuclear waste.
Storage of high-level radioactive waste is already a major environmental concern in South Africa, especially since the operation of Koeberg (which was meant to close in 2024) has been extended for another 20 years. The fuel pool storage capacity was supposed to reach capacity by April 2020. What are we going to do with the high-level nuclear waste now?
We fail to understand why Minister Mantashe continues to favour uneconomic and polluting technologies, such as coal and nuclear, over renewable energy. Numerous studies that investigate the least-cost energy generation technologies to meet the energy supply needs of South Africa have shown that solar and wind power are the only economically viable generation technologies that South Africa should pursue.
Given the growing severity of the climate crisis and the social and economic impacts it brings for all of us, surely we should be focusing on an evidence-based rapid transition to renewable energy?
The Special Report of the United Nations' Intergovernmental Panel on Climate Change (IPCC) notes:
"The political, economic, social and technical feasibility of solar energy, wind energy and electricity storage technologies has improved dramatically over the past few years, while that of nuclear energy and carbon dioxide capture and storage (CCS) in the electricity sector have not shown similar improvements."
Renewable energy generation has a much lower carbon footprint than any of the fossil fuel options available. Even when including "life cycle" emissions of clean energy (which includes manufacturing, installation, operation, decommissioning), the global warming emissions associated with renewable energy are negligible compared to those generated by fossil fuels.
The cost of renewable energy (and associated storage technologies) has declined steadily, and is projected to drop even more, making it the cheapest option available for new energy generation. There has been much advancement in energy storage technologies, such as utility-scale lithium-ion battery storage, vanadium redox flow batteries and thermal energy storage (TES) technologies, among others.
Renewable energy is also much quicker to bring online, with many proven low-cost technologies ready to be rolled out with construction periods of 12 to 24 months. New nuclear implementation will take at least 10 years, and possibly much longer.
The cost of producing energy from renewable energy sources is dependent on the amount of money spent on the infrastructure, and not on the inflated cost of natural resources used for fuel. This means we can expect much more stable electricity prices when the bulk of energy is coming from renewable sources. The wind and the sun, the "fuel" used by renewable energy power plants, is free and their cost does not
fluctuate based on the market in the same way coal, gas and oil does.
Renewable energy technologies have the potential to create large numbers of jobs. It is estimated that there will be 200 000 more jobs in renewables by 2030, and 1 million more by 2050. When compared to an expensive fossil fuel industry, that the global scientific community continues to warn is causing a climate crisis resulting in unimaginable social and economic suffering, an energy system based on renewable
energy seems like the only sensible option for our country.
Wind and solar energy systems generate electricity with no air pollution and in a manner that does not negatively impact the health of our people and the natural environment that supports our way of life.
Wind and solar energy require significantly less water to operate and thus do not pollute water resources or strain water supplies. In a country where droughts are getting ever longer and more common because of the impact of climate change on our water supply, water is a most precious resource.
Wind and solar are less prone to large-scale failure because they are distributed and modular. Distributed systems are spread out over a large geographical area, so a severe weather event in one location will not cut off power to an entire region. The risk of disruptive events are bound to increase in the future as droughts, heat waves, more intense storms, and increasingly severe wildfires become more frequent due to
climate breakdown.
We ask the Minister and his department to focus on preparation and procurement of the 20 400 MW of wind and solar energy required by the 2019 IRP between now and 2030, and on the various significant energy policy reforms needed to provide our country with security of energy supply, instead of being preoccupied with the questionable pursuit of 2500 MW of nuclear power.
Given all the obvious benefits of renewable energy, the reality of the climate crisis and all the available evidence, the call for new nuclear power makes little sense. We instead ask Minister Mantashe, along with the rest of our country's leadership, to focus their efforts on a rapid and deliberate evidence-based deployment of renewable energy, as supported by the 2019 Integrated Resources Plan.
Extinction Rebellion South Africa calls on the Minister to do what is right for our country and to base decision making for our country's energy supply on factual evidence, public participation and rational reasoning.