South African entrepreneurs are taking climate change seriously: Water filters made from macadamia nut shells, a mobile solar-powered kiosk for charging phones in off-grid areas, vegetable growing systems using recycled plastic bags, and a machine that turns any type of waste into energy (gas) or diesel.
At the SEED South Africa Symposium held in Pretoria recently, entrepreneurs and other delegates shared why investing in clean-tech is essential to tackle climate change.
Their message was reiterated by Dr Rethabile Melamu (pictured below), general manager of the green economy unit at The Innovation Hub.
Melamu pointed out that entrepreneurship in the climate space takes a lot of effort. "Support for the commercialisation of clean-tech ventures is very fragmented. We need to do more to get these enterprises investment ready and to help them find funding," she said.
SEED, a global partnership that supports innovative SMEs, provides entrepreneurial solutions to sustainability challenges in developing countries.
The SEED low carbon awards and SEED South Africa Climate Adaptation Awards are one of the ways in which SEED recognises innovative and promising entrepreneurship in sustainable development.
These are some of the entrepreneurs who attended the symposium: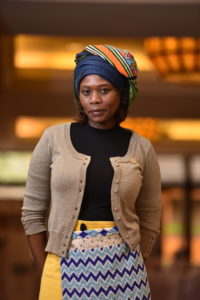 BabyTurtle: LungelwaTyali
Lungelwa Tyali, an entrepreneur from rural Eastern Cape and co-founder of SolarTurtle, has recently been awarded a massive grant. It will be used to develop the BabyTurtle, a mobile solar kiosk that can be used in rural, off-grid areas to provide immediate relief for people that struggle to keep their phones and lights on.
The idea is that it also empowers other entrepreneurs, because they can buy a BabyTurtle (either alone or as a group) and generate an income for themselves by selling power to people.
Tyali and her team will use the grant – awarded by the South African National Energy Development Institute (SANEDI) – to create three different versions of the BabyTurtle. One that can transported on a taxi, one that can be pulled or peddled to trading spots, and a larger one that can be towed.
Much like the original SolarTurtle, which was housed in large shipping containers, the BabyTurtles will also have fold-away solar panels. BabyTurtle franchise owners will be able to sell power at taxi ranks, bus and train stations, festivals, sports events, and open markets. The kiosks will also provide WiFi.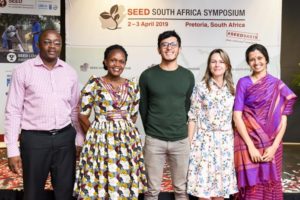 Tyali says that it is difficult for entrepreneurs to do well without the support of funders and business incubators.
She co-founded SolarTurtle in 2015, and it was only after getting exposure through a number of mentoring programmes and competitions that SolarTurtle started to break even.
"This really matters when you are deemed unbankable, with no balance sheet," she says.
SolarTurtle's selection as a SEED award winner in 2016 also helped put the business on the map.
"SEED's given us business, financial and legal mentorship, as well as other support we needed to make it in the cut throat business space and energy world. They also helped with our business plan, funding applications, and many valuable networking opportunities."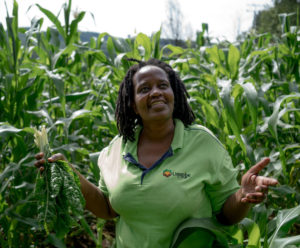 Umgibe: Nonhlanhla Joye
It was a cancer diagnosis and hungry chickens that led Nonhlanhla Joye to devise an ingenious vegetable growing solution, which now feeds over 10,000 people.
In 2014 Ma'Joye, as she's fondly known, needed to find a way to support her family after being diagnosed with cancer. The KwaZulu Natal woman decided to plant vegetables in her backyard, but those were promptly eaten by chickens. Not to be defeated, Ma'Joye created growing bags by suspending plastic bags destined for landfill on wooden frames. This provided protection from the chickens, saved water and fed her family.
Umgibe was born when Ma'Joye started selling the surplus vegetables. Now she employs 28 people and works with families, schools, churches and entrepreneurs, teaching them how to grow their own vegetables to eat and sell.
Expanding her business wasn't easy, Ma'Joye says.
"It's really difficult for a small enterprise to get funding. Nobody wants to risk financing an unknown start-up."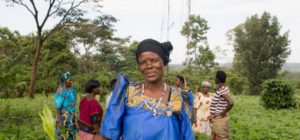 Ma'Joye entered many competitions and her luck changed in 2017 when she won the SAB Foundation competition as well as a SEED award for sustainable agriculture.
"I have received a lot of exposure since winning the SEED award. SEED is known internationally and we have received a lot of assistance from people who have found us on the SEED website. One of our biggest funders found us through SEED," she says.
Umgibe has expanded to make juices and pickles from left-over vegetables so that nothing goes to waste.
"If someone can't sell their onions because they are underdeveloped, we will pickle them instead of throwing them away. If beetroots are too hard and thready, we ferment them to make probiotic juices and beet wine. That is how we add value."
And this is also how Umgibe – which means the rope of hope – has indeed brought hope to Ma'Joye and her neighbours.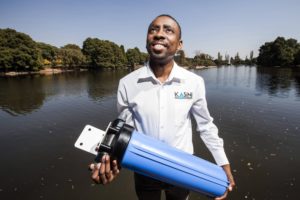 Kusini Water: Murendeni Mafumo
Could water filters made from macadamia nut shells be the solution to Cape Town's water crisis?
Entrepreneur Murendeni Mafumo uses macadamia nut shells to purify water and hopes that his innovation will mean safe drinking water for thousands of South Africans.
The founder of Kusini Water is now using his technology to build a solar-powered desalination plant in Cape Town to provide some relief to the drought-stricken city.
The plant is set to be operational by August, and for every litre of clean water that is produced, 20 litres will be donated to a community in Khayelitsha.
Mafumo's inspiration to start Kusini stems from his upbringing in rural Limpopo, where he watched young women fill big buckets with river water and lug them back to their homes to use for drinking, cooking and cleaning.
These chores as well as the lack of proper sanitation meant girls missed several school days each month; and many also suffered from water-borne diseases.
According to the World Health Organisation, almost eight percent of deaths in Africa are caused by diarrhoea – often caused by contact with water contaminated by sewage, animal faeces or other waste.
South Africa is the largest macadamia but producer in the world, and Mafumo uses locally-sourced shells to make an activated carbon filter with a nanofiber membrane.
The filters can be made in different sizes to be used on most water sources. They work on a low-pressure system which can be gravity-fed or solar-powered, eliminating the need for electricity and making them ideal for providing safe drinking water in rural and informal settlements.
Kusini was launched in an Emalahleni community affected by water polluted by mining. It is also saving the Gauteng government R1.2 million a year by providing clean water to rural schools that don't have piped water.
Despite Mafumo's success, he recently told delegates at the SEED South Africa Symposium in Pretoria that financing and business development support is "a lifeline" that every entrepreneur needs to succeed.
Mafumo received business support from the Climate Innovation Centre of South Africa (CICSA) and is building the desalination plant in partnership with Red Bull.
"Without the assistance from CICSA and Red Bull, we would be nowhere," he said.
Technotherm: Jayde Ferreira
Technotherm's pyrolysis machine could be used to reduce the need for landfill sites, and at the same time contribute energy to South Africa's strained power grid.
The pyrolysis units use high temperatures to decompose organic waste (such as sugar cane or bamboo), plastic or sewage, in an oxygen-free environment, without producing harmful emissions. The gases created by the process can be used to power turbines to create electricity, bio-oils can be used as diesel, and char as fertiliser. The machines can process anything between 125kg to five tonnes of waste per hour, depending on what they have been custom-built for.
The units are already being shipped across the world. One buyer plans to use the containerised machine to convert plastic waste into diesel, while another will convert sewage to energy.
But Jayde Ferreira and her team risked losing potential business to competitors with more financial muscle.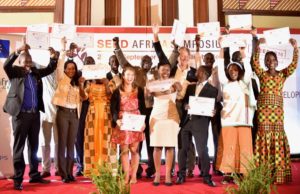 Funding and mentorship from The Innovation Hub gave Technotherm the resources they needed to create a test pyrolysis unit, which has given them an edge against other competitors in the waste to energy sector.
Their story was not unique. Most of the entrepreneurs at the recent SEED South Africa Symposium shared stories about difficulties in securing financing or other business support for their small, climate-smart enterprises.
"Our saving grace was The Innovation Hub's funding and incubator programme," Ferreira told delegates at the SEED Symposium. "We needed to provide potential funders with proof that this product exists and works. Having the lab-scale unit is a huge advantage for us because we can provide concrete evidence instead of trying to convince potential clients that our technology works."
Ferreira hopes that these machines will eventually be used to solve South Africa's waste and power challenges. The City of Johannesburg announced in 2018 that it expected to run out of landfill space in the next six years if nothing was done to address the problem.
"The pyrolysis machines can solve this problem," Ferreira said. "They aren't weather dependent, they treat waste at the source, and they reduce the need for incineration."