Earth Action Hub Launch
May 21 @ 08:00

-

May 23 @ 17:00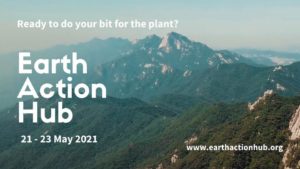 The Foundation for Environmental Education (FEE) is excited to announce the launch of Earth Action Hub (EAH), a dynamic 3-day virtual climate event dedicated to engaging everyone, from youth to elders, in learning about and promoting sustainable solutions to climate change!
Hosted by FEE, Earth Action Hub is the creation of the international, youth-led Organizing Committee made up of seven dedicated members:
Barry McLaughlin (Ireland)
Jessica Laxton (UK)
Joanna Tao (New Zealand)
Kristina Madsen (Denmark/USA)
Paola Bay (Italy/UK)
Reeza Hanselmann (Germany/USA)
Samia Gomes (Brazil)
They all share the vision of building an online collaborative community that will serve as inspiration and support for continued environmental action across the globe.
"Our mission is to offer international youth-led virtual events and showcase resources that will give people the knowledge, skills, support, and hope needed to make changes in their daily lives that collectively will have a profound positive impact on the environment." – Earth Action Hub Organizing Committee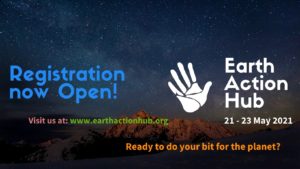 The first annual Earth Action Hub event will be kicking off on Friday, May 21st at 14:00 UTC, starting with an Opening Ceremony filled with individuals from around the world and diving straight into a variety of talks, conversations and workshops that will cover seven themes; Transport & Tourism, Food & Agriculture, Biodiversity & Conservation, Production, Consumption & Waste, Politics & Civil Society Engagement, Storytelling & Media, and Resilience & Adaptation.
You'll have the opportunity to attend inspiring sessions from youth activists such as Brenda Malawe, a food technologist from Malawi or Maia Raymond (PermaYouth), a permaculture (pr)activist from Australia. Looking for a more in-depth experience? Our partners such as UNICEF, Reserva: Youth Land Trust and the International Ocean-Climate School are running fantastic workshops on a variety of topics such as youth advocacy, how to organize an environmental NGO and exploring sustainable values.
There will be plenty of opportunities for participants to network with one another as well as with speakers and partners, not to mention the Art Space, Exhibition Hall and Knowledge Hub. Perhaps the highlight of Earth Action Hub are the various action planning sessions where participants will be supported by experts such as psychologists and educators in developing their own personalized climate action plan!
We've got 3 days of inspiring, dynamic and educational activities and sessions planned so you won't want to miss it! Everyone's invited, so be sure to join!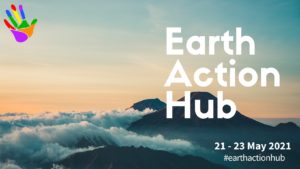 Volunteer
Earth Action Hub (EAH) are currently recruiting a wonderful team of Event Support Volunteers to help us run the Earth Action Hub online event in May. We welcome anyone who wishes to volunteer and will be providing technical and safeguarding training. This is a great opportunity to contribute to your CV resume or just a fantastic way to take climate action! Remember, by volunteering you will get access to some of the limited workshops!
Donations
To ensure inclusivity for all, it is free to join the inaugural 3-day event and the long-term online community.
However, their most immediate expense is the creation and maintenance of the online platform. If you would like to support Earth Action Hub, donations of any amount can be made securely here.
Spread the word!
Earth Action Hub is the new kid in the climate class and they are very proud of their uniqueness as a climate platform. They truly believe that EAH has the power to inspire real action around the world by making climate action accessible, relatable, manageable, appealing and sustainable.