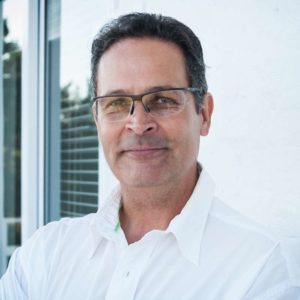 Medicinal cannabis is on everyone's lips nowadays. Yet there is much confusion about how to use or prescribe medicinal cannabis, as well as the legalities around dispensing and distributing this product.
Now a Cannabis Panel Discussion by leaders in the field will demystify this current and important topic at the 2nd Conference for Integrative Medicine at the Lord Charles Hotel on 17 November.
Panelists include:
Dr Ernest Buitendag (pictured, right), anaesthetist, pain expert and conference speaker on Cannabis – More than just THC. Dr Buitendag was first exposed to medicinal cannabis in Canada and had good effects on selected patients. He treats chronic pain via the Canadian model and speaks widely on this topic.
Anthony Rees, herbalist and educator in the Western Herbal Tradition and founder of the Traditional and Natural Health Alliance (TNHA), is spearheading a separate High Court review over the scheduling of CBD oil. He is an expert on the legal aspects of medicinal cannabis in SA and will give an update on the current situation and the on-going fight to make natural products available to the public.

Kiara Ducasse, co-founder of CannaChi, Kiara is an expert on cannabis, hemp and the endo-cannabinoid system for medicinal uses with more than 9 years' experience.

Sharon Price, traditional healer, reflexologist and founder of Carol's Oils, is a passionate practitioner and cannabis activist, who has dedicated more than 12 years to educating patients and medical practitioners about medicinal cannabis and how it impacts their wellness.

Moderator: Dr Renee Usdin, integrative doctor with a special interest in the cutting edge research into medicinal cannabis and its applications in general practice.
The conference boasts an extensive list of local and international speakers – integrative specialists and doctors – on the Integrative Medicine (IM) approach to a host of chronic diseases including pain management, mood and eating disorders, women's health, paediatrics, addictions, autoimmune disorders, adrenal stress, thyroid dysfunctions, balancing sex hormones, infectious diseases and harmful environmental chemicals.
Every human cell contaminated
There are 144,000 chemicals currently in our environment. Every human cell on this planet is now contaminated. Integrative doctors use chemical medicine when appropriate, but generally choose more natural medication.
Functional and Integrative medicine is currently the fastest growing specialty in medicine. IM is a holistic approach toward patient wellness. It focuses on supporting the body, and resolving barriers to healing by addressing the root cause of illness using diet, lifestyle, environmental and socio-emotional modification strategies. IM respects evidence-based practice, while still embracing the complexity of the human body.
Not only will integrative and allied doctors find value and education here, also all doctors and practitioners are invited, who want to learn about more effective and deeply restorative ways to effect real and sustained health in their patients.
By Elma Pollard