More than a third of all worldwide energy is consumed by buildings and construction, so a new generation of architects are designing structures that both respond to Malaysia's climate whilst also being sympathetic to the global climate emergency.
Award-winning Malaysian architect Eleena Jamil, who has utilised bamboo in her structures, explains the importance of embracing the nation's past to protect its future:
"Responding to the climate is very, very important in a hot and humid climate like Malaysia and you see that in the architectural education. You see students designing sensitive buildings which respond to the climate, which makes a connection with the local culture and local lifestyle."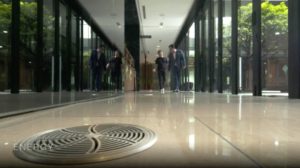 Bamboo has commonly been used in rural areas in Malaysia, but Jamil believes the material will soon make its way into urban areas as well:
"We are slowly moving towards making natural and sustainable materials like bamboo to become a standard building material to be used in buildings, in housing, in tall buildings and in skyscrapers."
Dr. Tan Loke Mun is an architect best known for designing the first Green Building Index Platinum rated house in Malaysia – an industry recognised green rating tool for buildings to promote sustainability in the built environment.
"We were so busy in Malaysia building the nation, that we never understood that we needed to also look after the environment." Dr Tan explains.
"In 2009, when we launched Green Building Index, was the year when everyone realised there was another way to look at things. It also helped the bottom line, because your costs of operation went totally down."
In Malaysia, air conditioning is both a lifestyle essential and central to the debates surrounding building design. Some of Dr. Tan's innovations include installing air conditioning units in the floor, which saves the building's energy costs between 30 to 50 percent.
Dr. Tan, who also teaches architecture at a local university, says he has seen students embrace sustainable design:
"The new generation might save the world. They understand that heat gained through a house is predominantly through the roof and all this is now in the curriculum. I have good hope that the next generation will do the right thing."
Source: CNN
Read more: