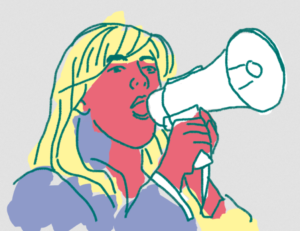 Here follows the final statement of the 2020 Ecosocialist Conference for Climate Justice, which took place online last week:
The corona pandemic has exposed the fragility of the neoliberal global economy. We will face yet another wave of austerity and unemployment, as pro-business governments raise taxes and slash spending, just as they did after the financial crash of 2008. All this on the back of the imminent collapse of global ecosystems caused by ruthless over-production, voracious agribusiness, and the deliberate exploitation of cheap, polluting carbon fuels for corporate profit. We need to challenge the growth-based and consumption-driven system of capitalism.
Measures against the climate crisis must take into consideration that women, people of colour and the working class in general are disproportionately affected by the multiple crises of the pandemic, the economy and the destruction of our ecosystems.
If we do not mobilise now – this decade – then global warming will become irreversible, ensuring that health and living standards deteriorate rapidly for most people on the planet. That is why we need a global mass movement to force governments to prevent a rise in the average surface temperature of the planet beyond 1.5°C, by 2030. And if vested economic interests seek to prevent this goal being achieved, we need a popular movement powerful enough to change the system.
Such an international movement requires goals.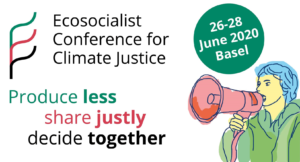 The immediate demands to fight for include:
Public democratic control and ownership of all destructive industries, such as the fossil fuel industry, and their immediate conversion to renewable energy sources with the retraining of displaced energy workers allowing them to use their creativity and skills for useful and sustainable services and products. The armaments industries have to be dismantled and converted for purely civilian and peaceful production. A conversion programme must guarantee full employment with a reduction and sharing of working time.
End all state subsidies to airline and automobile industries – introduce punitive taxes on carbon emissions and polluters. We fight for a socialisation of the airlines and the automotive industry, their drastic dismantling, conversion and integration into an affordable and sustainable public transport system. Free urban transport systems are urgently required.
An international emergency plan (coordinated at state, town and village level) for a global transition to a carbon neutral, ecologically balanced economy. This must be developed by the self-organisation and mass mobilization of workers, peasant farmers, women and indigenous peoples. The conversion of agribusiness and intensive livestock farming to an ecological sustainable food production system.
An ecosocialist transformation must include the socialisation of social and care equally distributed across society. Environmentally sustainable jobs should be created in free and universal health and care, housing, education and socially useful services.
Immediate cancellation of all debt, especially those owed by developing and peripheral countries. International banks and financial trade is to be taxed to fund an ecological conversion programme in global south, as reparations for slavery, colonialism, and ecological destruction caused by Western industrialisation. The economic-financial globalization should be replaced by social and environmental economic relationships between North and South. We stand in solidarity with the movements in the global south fighting against neoliberalism and popular and democratic sovereignty.
The socialisation of the banking and finance industry and its replacement by a public banking service, democratically managed for the investment into emergency plans of ecologically sustainable and socially just projects.
Words and good intentions no longer suffice. Capitalism is killing the planet – literally. System change at a continental and global level is required. We need a radical, anti-capitalist, ecological, feminist, internationalist and anti-racist alternative that puts people and planet before private profit. Ecosocialism offers an alternative to the capitalist system and a future worth fighting for.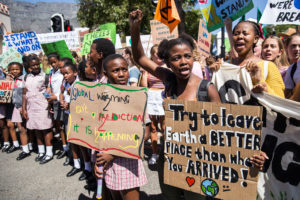 Joint and decisive action: the next steps
The mass mobilization of the people is necessary to stop the climate crisis. That's why it is necessary to build an international movement against the destruction of the environment by capitalism.
We think that the international climate justice movement should agree on some joint mass campaigns in the immediate future that will directly aim at a massive reduction of greenhouse gas emissions. To this end, we want to promote a dialogue with the climate justice movement, trade unions and progressive social movements. In these campaigns, climate protection, protection of people's health and the interests of workers for decent and meaningful jobs must find a common expression.
We therefore support the mobilisation for mass demonstrations in Glasgow and elsewhere to coincide with COP26 in November 2021, and support initiatives for a Global Day of action and mobilisation for climate justice in autumn 2020.

We believe that the climate justice movement, progressive organisations, and trade unions should discuss launching broad international campaigns.
for the massive reduction of intensive livestock farming and the meat processing industry, and instead, the development of organic farming and sustainable food industry.
for the socialization of transport: all airlines and the plane and automobile industry, and their conversion to produce environmentally sustainable cheap/free public transport systems and socially useful products.
We agree to reconvene this conference in a physical form in 2021 to develop our programme of action and our ecosocialist alternative.
Stop the rise at 1.5°c!
Put people and the planet before profits
Fight for an ecosocialist alternative!