Protect our Next advocacy organisations have launched a campaign calling for Big Tobacco to clean up its mess called 'Susa Udoti Wakho – #yourbuttsstink.'
The 2022 World Health Organisation (WHO) theme – "Tobacco: Threat to our environment" – focuses on the damaging impact tobacco has on the planet throughout its lifecycle, including deforestation, erosion, water pollution and biodiversity damage through to the disposal of manufacturing waste and littering of cigarette butts.
"We support the WHO message and our local campaign aims to raise awareness among the public on the polluting and damaging environmental impact of tobacco in South Africa – including cultivation, production, distribution and waste. It gives tobacco users yet another reason to quit," says Dr. Sharon Nyatsanza, Deputy Director of the National Council Against Smoking.
The Protect our Next organisations, including the National Council Against Smoking (NCAS), the Cancer Association of South Africa (CANSA), the SA Medical Research Council (SAMRC) the Heart and Stroke Foundation South Africa (HFSA) and the South African Tobacco Free Youth Forum (SATFYF) work together to raise awareness of tobacco and e-cigarette harms and campaign for South Africa's new Control of Tobacco and Electronic Delivery Systems bill to be passed. The Bill aims to protect the nation's health and environment by better regulating and reducing the consumption of tobacco and related products, including e-cigarettes.
"Reducing tobacco consumption needs to be identified as a key lever for achieving all of the Sustainable Development Goals, not just those directly related to health," says Nyatsanza.
The Susa Udoti Wakho #yourbuttsstink campaign is rolling out in conjunction with a schools education campaign launched earlier this year. Clean-up initiatives around our participating schools are taking place throughout the week, leading up to a schools event on 3 June where the final winner of a National Schools Mural competition delivered in partnership with the Department of Health (DOH) will be announced.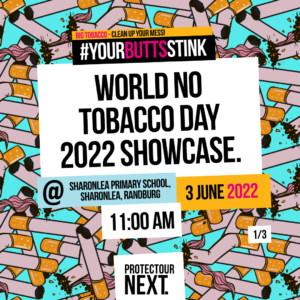 "Education is critical and we need to get the real truth about tobacco across in a striking way," says Joash Daniel of Cart Agency, partner agency for Protect our Next.
"We're continuing our outreach into communities and schools nationally and on social channels, driving awareness and education about all forms of tobacco harm and what needs to be done to address it."
The environmental impact of tobacco is staggering, says Nyatsanza.
"Tobacco's total annual carbon footprint is 84 million tonnes. Clearly, the tobacco industry contributes significantly to climate change. Cigarette butts remain the most littered item globally, with 65% of cigarette butts ending up as litter. That is equivalent to over 15 billion cigarette butts tossed away on South African streets."
Cigarette butts are cellulose single use plastics and are not biodegradable, highlights Nyatsanza, saying South Africa spends over R1 Billion on waste management and clearing marine pollution resulting from tobacco each year, further depleting our public funds.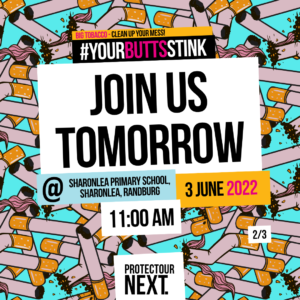 "Tobacco companies are not held responsible for the cost to our environment, our economy and our health of producing their toxic products. Instead, they have shifted this responsibility to the taxpayer."
The World No Tobacco Day campaign calls on governments and policy makers to step up legislation, including implementing and strengthening existing schemes to make tobacco producers responsible for the environmental and economic costs of tobacco product waste.
"It's clear the tobacco industry should clean up their mess – Susa udoti wahko! The tobacco industry is making profit by destroying the environment and needs to be held accountable for the environmental destruction and made to pay for the waste and damages, including to recover the cost of collecting these wastes," says Nyatsanza.
"We call on government to compel tobacco companies to use only biodegradable filters and to bear the full cost of management and disposal of cigarette waste."
Growing tobacco as a crop also has a negative impact on the environment and on the farmers who harvest the crop, says Nyatsanza. Tobacco farming harms the environment through deforestation, soil leaching, and chemical runoff, while farmers are harmed through exposure to toxic chemicals and through unfavourable contract arrangements with tobacco companies.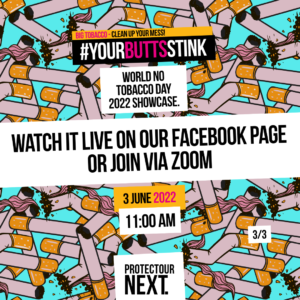 Data summarised in the Tobacco Control Data Initiative dashboard shows that tobacco farming comprises only to 0.06% of South Africa's total agricultural employment, even using tobacco industry' estimates. The tobacco-industry funded alliance, South Africa Tobacco Transformation Alliance (SATTA), further supports relatively few farmers, just 125 black tobacco farmers who have 173 hectares of the 5,000 hectares of tobacco farmed in South Africa (i.e. they produce 3.5% of South Africa's total tobacco demand), according to the Black Tobacco Farmers Association website (2019).
Nyatsanza says the government should create conditions that are economically conducive for farmers to switch to alternative crops.
"Policy makers should support tobacco farmers to switch to alternative, more sustainable livelihoods to reduce the environmental impact of tobacco growing, curing and manufacturing while continuing to implement tobacco control measures."
"This World No Tobacco Day, we are reminded of the urgent need to reduce tobacco use in South Africa and across the continent," concludes Nyatsanza.
"Every tobacco product produced and consumed wastes precious resources upon which our existence depends. It's time to pass the new Tobacco Control Bill into law. The delay in finalising the Bill is detrimental to the nation's health, our economy and our environment."