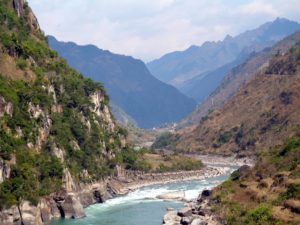 International Rivers has published a report calling attention to the need for the world's largest dam building companies to take urgent steps to address the increasing scale and severity of their biodiversity impacts.
The report, Advancing Ecological Civilization?, examined the biodiversity footprint of the world's two largest dam-builders, PowerChina and China Three Gorges and their subsidiaries, which between them are estimated to have well over half of the international hydropower construction market.
It found that the companies lack clearly defined "no go" policies to exclude problematic projects, resulting in irreversible damage to some of the most ecologically sensitive sites and rarest species.
The report was launched during the biennial conference of the global Convention on Biological Diversity (CBD) treaty, where critical negotiations begin over how to arrest unprecedented global biodiversity loss. In its role as host, China has been vocal about the need to embrace the concept of an "ecological civilization," which refers to the need to balance economic progress with ecological sustainability.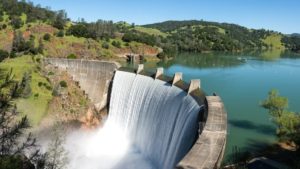 The report argues that China's state-owned enterprises (SOEs) operating overseas should follow suit if China is to achieve this goal. This is particularly true in the hydropower industry, which has an enormous impact on biodiversity and where Chinese SOEs are estimated to account for three-fourths of all dams under construction today.
"Given that Chinese SOEs are leading the market in hydropower development in much of the world, it's all the more important that they be the responsible corporate actors they profess to be," says Kirk Barlow, International Rivers' China Program Manager. "As China has begun to reckon with the ecological toll of its unprecedented economic growth, it's important to understand whether its SOEs abroad are contributing toward achieving an ecological civilization."
The report examined six projects from each parent company to assess the scope of biodiversity impacts and draw lessons for future projects.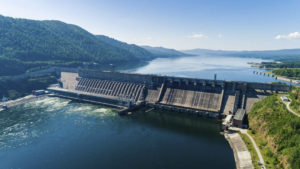 Some of the report's key findings include:
Protected areas are not spared from dam construction.
Half of the projects examined would directly impact protected areas that harbor considerable biodiversity. In one such case in Tanzania, PowerChina subsidiary Sinohydro was awarded a $969 million contract to develop the Julius Nyerere dam despite a global outcry. The dam is being built in the middle of the Selous Game Reserve, a UNESCO World Heritage site recognized as a biodiversity hotspot and one of the largest protected areas for African wildlife.
A growing number of dams are impacting critically endangered great ape populations, mankind's closest living relatives.
Sinohydro is involved in two of the most controversial. The Koukoutamba dam in Guinea is expected to lead to the deaths of 1500 critically endangered Western chimpanzees. The Batang Toru dam in North Sumatra, meanwhile, could precipitate the extinction of the recently discovered Tapanuli orangutan. These projects have prompted grave concern from international conservation experts and protests from local communities.
Several projects are slated for construction on undammed rivers, with particular concern over irreversible biodiversity loss.
The first dam on a free-flowing river has a disproportionate biodiversity impact, causing the loss in some cases of 40% of a river's aquatic species. Of greatest concern are plans by China Three Gorges to develop the Mong Ton dam cascade on the Salween River in Myanmar, one of Asia's last remaining undammed, wild rivers.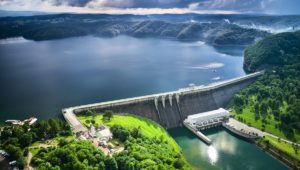 Significant human cost of biodiversity loss, particularly for Indigenous Peoples. Indigenous Peoples, while constituting just 5% of the world's population, are guardians of 80% of global biodiversity. China Three Gorges is part of the consortium that operates the São Manoel dam on a key tributary of the Brazilian Amazon. The project has been the subject of steadfast opposition from local Indigenous groups, including the Munduruku who twice peacefully occupied the dam site to protest the dam's construction.
Beyond specific project impacts, the report found that companies' policies regarding biodiversity lack clear bottom lines to exclude the most destructive projects. This lack of "no go" policies has contributed to the troubling increase of these particularly destructive projects.
"We're seeing a worrisome trend where the scale and pace of biodiversity impacts of new dams is actually getting worse," says Joshua Klemm, International Rivers' Policy Director.
False claims of sustainability
"And while the report focuses on Chinese SOEs because of their prominence, these issues are pervasive throughout the sector despite the hydropower industry falsely claiming that their product is sustainable."
The report calls for companies and government regulators to undertake critical measures to reduce biodiversity impacts. These would include the adoption and implementation of policies prohibiting the construction of dams in protected areas or on free-flowing rivers, avoiding projects with irreversible impacts on critically endangered species, and requiring the Free, Prior and Informed Consent (FPIC) of Indigenous Peoples on projects that will impact them.
"These steps are long overdue to reduce companies' biodiversity footprints, align with global efforts to arrest biodiversity loss, and help China achieve its vision of an ecological civilization," adds Klemm.