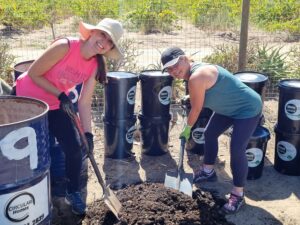 Growing up in a nature loving family, Natashia de Wet, felt compelled to build a brighter environmental future for her children, by creating sustainable ecosystems where bees, nature and humans can not only survive, but also thrive.
After much research and consultation with sustainability experts, Natashia discovered the world of Bokashi and how by combining it with her kitchen waste, she was able to generate nutrient-rich compost for bee friendly flower and vegetable gardens, while also reducing her carbon footprint.
"I knew this was the answer to what I had been looking for, so I resigned from my job and Circular Homes was born on my birthday, the 5th of December 2018, which also happened to be World Soil Day," explains Natashia.
"My driving mission was to help nature!"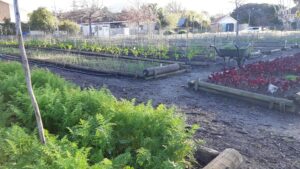 Natashia realised that to make a more significant impact she needed to get her local community involved.
"I felt it was important for the local community to be involved in the process, so I approached Somerset West Village Garden to see if we could start a full composting system," says Natashia.
"Since 2019 we have been actively running our programme at the Garden and to date have been able to collect more than 1354 Bokashi bins from the local households, which is then turned to compost which is used in the organic vegetable garden!"
"Together as a community, we are closing the loop on food waste and working towards a cleaner environment, whilst creating environmental awareness and building richer soils."
Somerset West Village Garden was created 6 years ago by Jenny Findlay, after watching a BBC documentary on how Cuba survived their USA imposed sanctions by planting vegetables on all pieces of open land they could find. The gardens, which are situated on the corner of New and Drama Streets in Somerset West, have been a literal lifeline to many vulnerable homeless people in the community.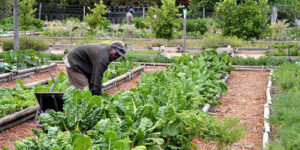 One of the main goals of the garden is to restore dignity in the street people who work there, by providing them a hand up and not a handout. The garden teaches them how cultivate vegetable gardens, they learn valuable gardening and farming skills; work ethic and it prepares them to enter the job market.
"Circular Homes started a Bokashi system at Somerset West Village Garden, where local residents and businesses can bring their two-week-old Bokashi fermented food waste (this includes, meat, cooked leftovers, bones, fat, onions, citrus, uncooked foods, fish, dairy, etc.) any weekday between 9:00 and 14:00," says Natashia.
"This food waste is transformed into Bokashi compost and then used to provide nutrition to the soil and vegetables. It also includes a loyalty card system, where for every 10 bins the public bring to the gardens, we give a bag of compost back."
On average there are 15 unemployed people working daily from Monday to Friday, between 9:00 and 12:00. They receive a token for every hour worked and they can exchange their tokens for food, clothes, toiletries, administrative assistance, a warm shower or a night's rest at the Somerset West Night Shelter.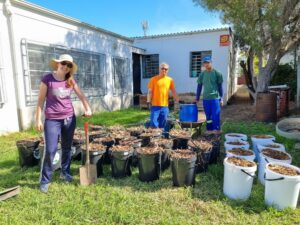 The garden provides fresh vegetables to the Thomas House of Hope, the Family Shelter, Night Shelter and Bright Lights. The public is also more than welcome to come and buy at the open market every Tuesday between 9:00 and 11:00. Seasonal vegetables are harvested, and other products include free range eggs, organic olive oil, local raw honey, herbs, homemade jams, compost and Bokashi. Plastic waste is kept to the minimum, so please bring your own bags or basket. Payment is accepted either in cash or by using Snapscan.
Following the economic consequences of the Covid19 Pandemic, in 2022 Circular Homes established a composting programme at The Family Shelter in Somerset West. This shelter is the only one of its kind in the Western Cape that is set up to look after homeless families and was opened in 2020 by Pastor Jo Swart and her team from the Night Shelter. The Family Shelter not only offers accommodation to the families, but also assists with counselling, education and employment opportunities.
"Through the help of Jenny Findlay from Somerset West Village Garden, Circular Homes have started a composting programme at the Family Shelter," explains Natashia.
"Not only does the programme assist towards a cleaner kitchen and waste area, but also assists with skills development. Training is given on making nutrient-rich Bokashi compost and future skills will include vegetable gardening, as we plan to establish a no-dig food garden, where the compost will be used."
There are an average of 70 residents at the Family Shelter, to date Circular Homes have established three compost heaps and composted 13 X 50L fermented Bokashi bins on site with the help of some of the residents.
"We are excited to see what the future holds as we know there are endless possibilities of more upliftment in the area and bringing hope to those that need it most!" says Natashia.
Circular Homes are a member of the Organics Recycling Association of South Africa (ORASA), who represent the organics recycling industry and are committed to seeing more organic waste diverted from landfill.