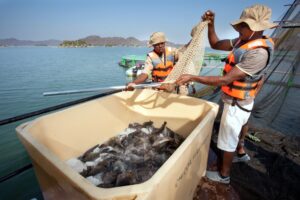 Understanding multiplier effects, and using them to your advantage is critical to building climate change resilience into your business, writes Jayson Coomer, CFO for Chicoa Fish Farm.
The breakdown in our climate is accelerating at a rapid pace. This was the overriding message of a report issued by the Intergovernmental Panel on Climate Change (IPCC) in February this year.
Whether we like it or not, the warming climate is set to cause widespread disruption in our lives. So, instead of asking how we prevent climate change, we need to start asking what living with it looks like.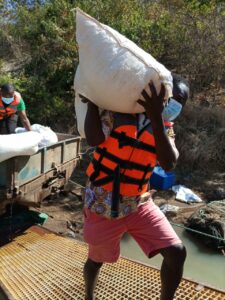 There are a few real world examples that offer some perspective. Sana'a, the former capital of Yemen, became the world's first capital city to run out of water and continues to face a conflict fuelled by this shortage. On the other side of the spectrum, countries like Mozambique and Madagascar are living with increasingly frequent tropical storm systems.
In extreme weather events like hurricanes and cyclones, their immediate impact is the loss of human lives and livelihoods. Homes and buildings are destroyed, electricity grids fail, livestock is lost, and road and rail infrastructure is destroyed.
But as these events become more frequent, their consequences will also extend beyond their initial damage. Longer term structural problems will set in, including disruptions to the global supply chain, high unemployment, exchange rate volatility, and growing levels of political instability. These are the multiplier effects of Climate Change, and now is the time to prepare for them.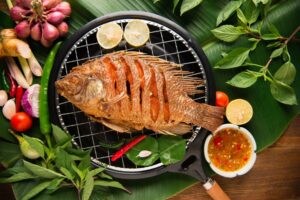 Given that, how do we build businesses today that are braced for Climate Change tomorrow?
We can look for answers in regions that are already experiencing the early indicators of Climate Change. Speaking as CFO for Chicoa Fish Farm in Mozambique, a country prone to cyclones, building climate resilience into our business model has been a non-negotiable.
The first key decision was around location. We chose to build our farm near the Zambezi River gorge mouth on Lake Cahora Bassa, where the terrain becomes more mountainous. One key benefit of this decision is the natural protection provided by the surrounding hills. In the past three years alone the farm has weathered Tropical Cyclones Idai and Ana, without loss of equipment or fish.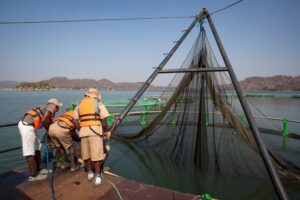 But if this advantage seems like a self-evident reason for operating where we do, it isn't.
The direct consequence of positioning ourselves so remotely meant we had no electricity for the first four years of operations. When you break new ground like this, you have to build everything from the ground up. We were too far away to connect ourselves to the existing grid infrastructure easily, so we had to build the farm without it.
This lack of electricity is a significant hurdle for tilapia fish farming. Most existing fish farms breed their fry onshore in concrete ponds, and are completely dependent on electricity to reticulate water and to maintain their incubation systems.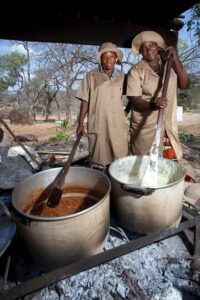 But this reliance on electricity can be a weakness. Fry production is the heart of any large-scale fish farm; and within an hour of power failure, the breeding fish start to die, meaning that entire generations of future fish are lost. Traditional fish farms therefore require a near constant source of electricity, and they must mitigate the risk of power outages with expensive back-up solutions.
At Chicoa we do not face this challenge. By leaning into our power constraint, we have developed an offshore breeding method that is completely independent of electricity supply. This is a completely new approach and quite specific to our location. Wild tilapia prefer to breed in bays and shallows where their fry can be protected from the waves of the open lake. Because our farm is located in a naturally protected area, we have placed our breeding cages in the lake itself, and replaced water reticulation systems with the lake's natural water exchange. Just as importantly, by figuring out how to collect fry rather than stripping eggs from the mother tilapias, we do not need to incubate eggs in a hatchery, and can rather rely on the natural incubation provided by the mouths of the mother tilapias.
By the time we had financed and installed the pylons to connect the farm to the power grid, the success of our offshore breeding process meant that we did not need to reverse course.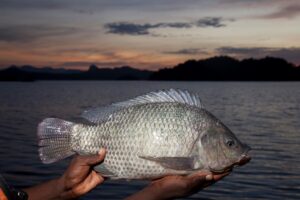 If anything, we doubled down on the offshore breeding, because of its potential for scale. Where other farms have to worry about clearing land, building concrete tanks and hatcheries, and installing water and electricity reticulation, Chicoa simply adds floating structures and nets to enable the natural processes to take place.
Building this level of resilience into our business has allowed us to become a multiplier in our own right. Chicoa has helped to create reliable streams of income for the local community; but it has also become an anchor farm for a new industry of smallholder fish farmers by providing ready access to fingerlings, feed, and training where none previously existed.
There is a critical lesson we can draw from our experience at Chicoa: to cope with the knock-on effects of climate change, we need to develop business models with their own potential to have multiplier effects.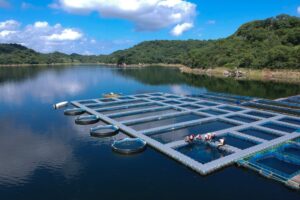 This isn't impossible to achieve, but it may require a revolution in our thinking. In one sense, a thought revolution means breaking away from conventional wisdom; but it also means circling back to the fundamentals of how a particular business is built.
Going forward, the key defining question will be how a particular business chooses to operate in its environment.
For everyone, the environment poses a risk to be mitigated. But to achieve Climate Resilience, a business should also embrace the principle that its environment will be the starting point for the solution. A business can then build itself from there. And hopefully, go forth and multiply.