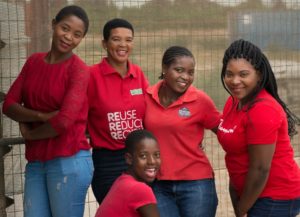 Loretta Waterboer, the winner of the PETCO Awards Top Woman in Recycling, 2021 is a wonderful and passionate role model for female leadership in our industry, running her own business, LW Recycling and Trade, and partnering with the Mosselbank River Conservation Trust (MRCT) for a bigger impact in her community.
When MRCT environmental officer Danielle Cronje started working with Loretta to help her establish her business and form relationships with other community-based organisations, she saw the mutually beneficial opportunity for partnership.
MRCT volunteers pick up a lot of PET plastic bottles during their monthly clean-ups. It just made sense to pass these valuable recyclables on to Loretta to increase her volumes and create another plastic income stream. In return, Loretta assists with the community clean-ups as well as recycling workshops and education sessions.
Loretta is PETCO's pick for the 2021 Top Woman in Collection and Recycling Award because she inspires us with her unrelenting passion for teaching her community about the value of PET and recycling.
Mosselbank River magic
Since its formation in 2017, the Mosselbank River Conservation Trust has been doing amazing work rehabilitating the eastern tributary that runs through the Cape Town suburb of Greenville.
All the members are volunteers from a community where social issues such as poverty, drugs and violence are prevalent. The team have different languages, cultures and beliefs, but one common goal: the wellbeing of their community and surrounding open spaces and river.
We spoke to Danielle Cronje from MRCT:
How and when was the MRCT started?
The MRCT was formed in 2017 when Garden Cities NPC (developer of Greenville) had a need to implement a sustainable environmental education programme for the community. The original 5 members of the team were identified by a community leader that have already started with a clean-up project in the area. Garden Cities thus built on that knowledge and formed the team to (1) look after the Mosselbank river and (2) implement and run the Greenville Environmental Education Programme.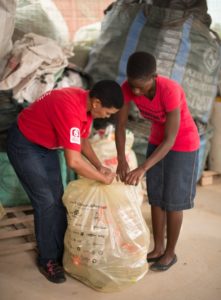 How many people are involved?
Currently, we have 15 active members who assist with the roll out and planning of the programme. Our events usually attracts between 50-60 volunteers. Our mini Eco – Warriors group is about 20 children( these are the children that always join all the events). In terms of stakeholder involvement, we have various entities who support us from City of Cape Town to Shoprite Act for Change to local community based organisations.
Are the people who are involved volunteers, or are they employed by the MRCT?
All the members are volunteers. There is a small group that is employed by a contractor to attend to the river rehabilitation which is required to be completed by Garden Cities. However all the educational activities ect is on a voluntary basis. The MRCT is not yet registered as an NPO- we hoping to do that this year so that we can apply for funding as we rely on donations to run the project.
Where are the people involved from?
They all reside in the community, Greenville, Fisantekraal and the Informal Settlement.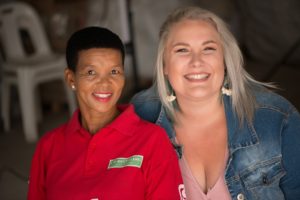 What area does the conservation team cover (i.e. does it cover the entire river or only a geographical part of it)?
The team covers the Eastern Tributary of the Mosselbank River that dissect the Greenville suburb. In time, other areas will be added. We also want to form relationships with the landowner near the Mosselbank River and in the future create a "Friends of the Mosselbank River".
Despite lockdown challenges in 2020, MRCT clean-ups attracted a combined 538 volunteers and collected 2.27 tonnes of waste.
MRCTs wide-ranging efforts – from turning illegal dumping sites into community food gardens, and daily river monitoring, to environmental education programmes – make a positive impact in their surrounding communities, leaving them cleaner and safer.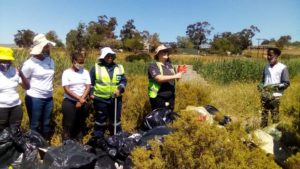 The impact of the lockdown
During the lockdown the MRCT team all had to learn how to change their habits and take responsibility for their actions to protect their friends and family. The MRCT therefore limited their public interactions and events in 2020. As the lockdown levels were adjusted, they slowly started to implement their programme again. Despite the challenges this past year, they are grateful to have a healthy team and volunteers.
Community food garden
In an effort to curb illegal dumping, the MRCT, UWC, Sprouting Minds and local residents will be joining hands to transform an area that is known to be an illegal dumping ground into a community food garden. The community food garden is made out of tyres that were found in dumping areas and within the river corridor. The team knows that the curb side is also known for dumping so the team will monitor the tyre garden to see if this intervention is successful.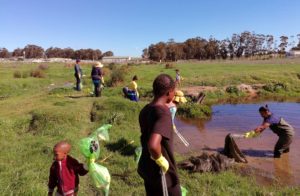 River monitoring
The team does daily monitoring of the river corridor which includes visual inspections of the water quality, plant observation, alien and weeds control, wildlife observations etc.
Environmental education
In 2020 the MRCT volunteers collected 2.27 tons of waste and a combined of 538 volunteers joined.
They carried out clean-ups for World Environment Day, Mandela Day, Plastic Free July, Women's Day and World Cleanup Day.