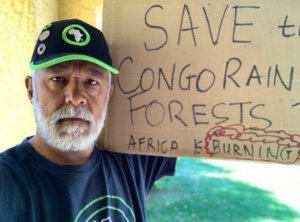 In a petition addressed to Multilateral Development Banks, Member States of the African Union, Member States of the United Nations, and donor countries and partners of the Central African Forest Initiative, the African Climate Reality Project is calling for world leaders to save the Congo basin peatlands from oil exploration and corruption.
The Congo Basin, home to the world's second largest tropical rainforest after the Amazon, is often referred to as the world's second lungs or Africa's lungs. At its heart is Cuvette Centrale (Central Basin), where the world's largest tropical peatlands lay hidden until their discovery in 2014.
The Cuvette Centrale peatlands store an estimated 30 billion tonnes of carbon, "equivalent to three years worth of fossil fuel emissions".
Rich in nature, Cuvette Centrale is more valuable if left untouched to thrive. It is a vast expanse of green forest and lush wetlands, home to rich and diverse biodiversity, and the indigenous and local populations that rely on the basin's resources for their livelihood.
Preserving these peatlands is essential to protecting both the social and ecological benefits, with the latter playing a critical role in international efforts to keep the global average temperature increase well below 2˚C in line with the Paris Agreement. Despite the urgent need to protect the Cuvette Centrale, it is the latest target for oil exploration with a backstory rife with dirty deals.
An investigative report by Global Witness, Der Spiegel and Mediapart, in conjunction with the European Investigative Collaborations media network reveals concerning findings behind the outdated Environmental Impact Assessment, wildly exaggerated claims of vast oil reserves, and several serious corruption red flags.
Congo's Environment Minister Arlette Soudan-Nonault has claimed that the oil block named Ngoki – 'crocodile' in the local Lingala language – "is not in the peatlands". However, the environmental impact assessment for the drilling was based on studies carried out in 2013 – a year before scientists discovered the vast peatlands in 2014. As it turns out, the Ngoni oil block could contain over 6000 square kilometres of peatland, which if drained for oil drilling could release more carbon dioxide than Japan's total annual emissions – 1.34 gigatonnes.
In August 2019 Petroleum Exploration and Production Africa (PEPA), spearheaded by Congolese oil baron Claude Wilfrid "Willy" Etoka who has close ties to the country's presidential family, announced that the deposits under Cuvette Centrale could contain hundreds of millions of barrels of oil – enough oil to quadruple the Congo's oil production and drag the country out of corruption-linked debt.
However, even oil giants Shell and Total rejected offers to invest in 2015. Evidence reveals that the size of the oil reserves was severely embellished, and that the project may not even be economically viable.
Opening up this climate critical carbon sink to oil exploitation holds high risks of oil spills that threaten the Congo basin ecology, as well as further rampant deforestation to make way for access roads and oil pipelines.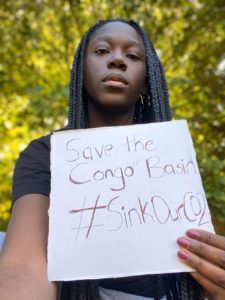 Draining the Congo's peatlands for oil would also make it impossible to meet global Paris Agreement emissions reduction targets. Furthermore, investors could end up being stuck with stranded assets as the world transitions to a just and low-carbon economy. The record drop in oil prices during the COVID-19 pandemic is one example, serving as a stark reality check for what happens when demand for fossil fuels fall.
Based on the findings of the investigation by Global Witness, Der Spiegel and Mediapart, in conjunction with the European Investigative Collaborations (EIC) media network, and their recommendations, the African Climate Reality Project strongly urge that:
Oil majors, including but not limited to Shell, Total, and ENI, must publicly state a strict commitment to not invest in oil exploration anywhere in or around the Congo Basin, on environmental grounds;
Banks must increase and improve their transparency policies, and publicly report on all potential risks for financing or providing supporting services to industrial developments anywhere in or around the Congo Basin;
Banks must introduce and implement a strict and infinite moratorium on lending to all new fossil fuel projects, and declare that carbon sinks such as tropical rainforests and peatlands are sensitive areas, and rule out all investments that have the potential to lead to the destruction of these regions;
The Central African Forest Initiative Partner Countries (Central African Republic, Democratic Republic of Congo, Cameroon, Equatorial Guinea, Gabon), Donor Countries and Organisations (European Union, France, Germany, Norway, United Kingdom), as well as South-South Partners (Brazil), must demand the termination of any oil and mining projects anywhere in or around the Congo peatland well ahead of 2025 when the Congo peatlands will be granted a special legal protected status;
The African Union Member States, as well as the Member States of the United Nations, must adopt legislation that bind all companies and financiers to report on due diligence to identify, mitigate, and prevent human rights and environmental risks associated with their operations and investments, and be held accountable to these.
This petition is being led by the African Climate Reality Project under Sink Our CO2, the campaign aimed at creating awareness around forest management, restoration, and protection as carbon sinks, and inspire people to plant and protect trees.