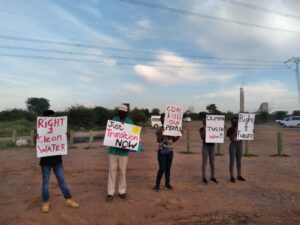 Last year, with the climate crises getting worse, Earthlife Africa Johannesburg kicked-off – in various communities in Limpopo, Gauteng, and Eastern Cape – what may be its most important campaign yet, the Just Transition Public Participation Dialogues. In a bid to ensure that communities are not left behind as the country moves toward the just transition, Earthlife Africa is creating space for people 'on the ground' to get involved and come along for the journey.
At a recent dialogue session in Uitenhage in Eastern Cape – a small town, which grew rapidly, and which is well-known for its Volkswagen factory – the discussion was very focused on nuclear energy, particularly since, in recent years, Thyspunt has been earmarked as a proposed site for a new nuclear installation. The affected communities remain extremely dissatisfied since they felt excluded from the National Nuclear Regulator's (NNR) recent public hearings.
Communities are also concerned about climate impacts, especially the small-scale farmers in the area. As it is, Eastern Cape is already a water scarce province that has been severely affected by drought. There has not been enough rain for farmers to produce sufficient crops in ways that contribute to food security or to eradicate poverty. And, contrary to popular belief, these communities understood the issue of climate change well and were already saving their grey and rainwater to use in their gardens (mostly located in backyards and some on school grounds).
In Gauteng, through the robust discussions about South Africa's energy struggles – which is rooted in several contentious decisions – one of the key concerns was how the country would transition from coal, which is our main source of electricity. Everyone agreed that government must speed up the process of the just transition because the current system is hurting the people. Not only are people suffering because electricity is too expensive but the pollution from our country's many coal-fired plants and coal mines, are affecting our people's health and livelihoods.
In Limpopo province, communities continued to emphasize that they must be a fundamental part of the transition to socially inclusive and decentralised energy, stating clearly that they do not want to be left behind. Wary about the unbundling of Eskom, communities question whether the state has them in mind or business? They also want a chance to seize the opportunities that a just transition would bring. People already have some great ideas, and these must be included in the way forward. Communities feel blindsided because when energy policies are drafted and projects are proposed, grassroot-level people are not considered, much less included, yet they are the ones who are most affected.
In all three provinces, issues stemming from the lack of meaningful public participation – where government decides to do huge developments without consulting with the residents, who are the ones who will be affected – came through quite strongly. Decision-makers know that so many people are living in extreme poverty, having to cope with unprecedented high unemployment rates, then they want to talk about how these projects will create jobs, but they do not want to talk about how these projects could harm local people. Meaningful public participation is their right and they will continue to fight for it because we cannot sit by and watch our environment be destroyed or as climate change gets worse.
Feedback from communities has been incredibly positive, with many committing to take what they have learnt from Earthlife's Just Transition Public Participation Dialogues and share it with their communities and locally based organisations.