While South Africa struggles to survive the impacts of the CoVid-19 pandemic, along with being ravaged by all the corruption that continues to be exposed, the Green Connection questions our government's reasoning for pushing through Environmental Impact Assessments (EIAs), when there is little or no chance of meaningful engagement with those communities who will be most affected by these projects.
This comes after the NGO made its submission into the Draft Scoping Report for the Assegai Pty Ltd Proposed Gas-to-Power Project in Saldanha Bay in the Western Cape, earlier this week.
The Green Connection's Community Outreach Lead Neville van Rooy says, "In my communications with the local communities here in Saldanha, we discovered that they were not even informed of any public participation processes regarding the project. They say that they have not been part of the EIA processes, nor were they aware of any public consultation taking place. These processes, guided by the National Environmental Management Act (NEMA), are there to protect the people from any projects that risk their lives or livelihoods."
"These communities are struggling with poverty and unemployment, and as a result are not necessarily tech-savvy, nor do they readily have access to the means for digital communications. If the consulting firm mainly relied on online means to notify them of meetings, entire communities would have been excluded. Not only does the NEMA require the equitable and meaningful participation of all interested and affected parties, it emphasizes the requirement to include vulnerable and disadvantaged persons, as well as people being duly informed and even educated on the various plans and the related implications. And since our Constitution says that their voices must be heard, by law, environmental authorisation should not be granted if NEMA principles were not adhered to," adds van Rooy.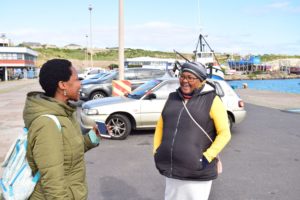 Carmelita Mostert, a fisherwoman from Saldanha Coastal links says, "I am extremely concerned to hear about this new proposed gas power project planned for Saldanha. What will happen to us fisherfolk? Our fishing resources are already disappearing. What will we live on? What will our children eat? How will we build our up homes and reach our goals? We also have hopes and dreams. My fear is that if this project goes ahead in Saldanha, then there will be no opportunities or income for us fisherfolk. We, as fishers in Saldanha, strongly oppose this project and do not agree. We want a platform to state our case. Our ability to fish that is our livelihood."
Mr Christie Links, also from Coastal Links Saldanha says that the community should protest and draw up a memorandum or petition, to be handed over to the company office.
He says, "We are disappointed that we were not informed about the project nor the related public participation processes. I feel that we were intentionally side-lined in this process, by the company as well as by the government. We have to make it clear that they are trashing our ocean, killing our livelihoods and dumping us in dire poverty. What about fishing communities? Do our lives not matter?"
Links adds, "Our communities are so disappointed with government, who continues to prioritise companies and their profits over the lives of the thousands of fisherfolk along our coast. Many of us are still grappling with the fishing rights and quotas, which now have an interim structure that we are not happy about. We oppose this Assegai project, in the strongest terms possible, because this company does not respect us, our fish species nor the ocean."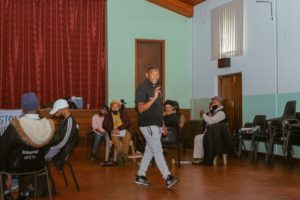 Links adds, "The government can hide behind CoVid-19 to stop our cooperatives' registrations but these companies' processes are allowed to go ahead? And, while we understand the need to create jobs, why can it not be done in ways that still safeguard us and keep our oceans safe?"
According to Harold Beeselaar from Coastal links Langebaan, "I don't know why us small-scale fishers always come up short in this country. Every year we are taken for fools by those marketing these dangerous projects. On top of this, in my view, for the past sixty years, big fishing companies have all but completely destroyed our fishing spots, expecting small-scale fishers to just be satisfied with the scraps. This is so unfair. We also have families to provide for, children who need to go to school to help secure a better future for them. With all that is going on, we must have the chance to have our say about what happens to our home."
"Just like the CoVid-19 pandemic, the impacts of climate change are forcing us to change the way we live. We cannot continue the way things have been. Not when it comes to governance and not when it comes to the prevention of the looming climate catastrophe. Since public participation is a crucial part of a healthy, functioning democracy, the way in which our government deals with these in the many EIAs in process around the country, makes us very concerned for our country going forward," concludes van Rooy.