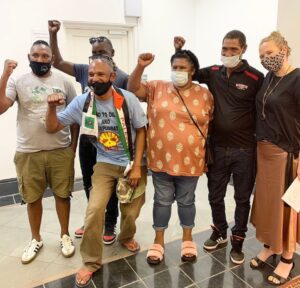 On Monday afternoon, small-scale fishers from the West Coast and beyond breathed a sigh of relief when the Honourable Justice Thulare directed Searcher to discontinue any activities related to the seismic survey.
This followed a nail biting few weeks since Searcher Geodata UK Limited commenced its seismic blasting operations in late January.
The interim interdict has been granted until the next court date on 7 March, when the merits of the interim interdict would be argued.
According to The Green Connection's Community Outreach Coordinator Neville van Rooy, "While it is disheartening that the only way that South Africans can get justice from government is by taking it to court, it does restore our faith when the law protects the rights of the people, as was the case today. From what we could tell, Searcher tried to delay the proceedings, arriving to court unprepared and requesting a postponement. Thankfully, Judge Thulare could not ignore the risk of possible irreparable harm taking place during the postponement period, which he granted. And while we still must prove our case, we are grateful that the seismic blasting will stop, until arguments are heard."
Fisher woman and Chair of Coastal Links Saldanha (and an applicant) Carmelita Mostert says, "Forward fisher folk, forward! We were very strong today. I am so glad that together we have come so far to protect our oceans and our livelihoods. We must continue to stand in unity and solidarity with all small-scale fishers and take this case forward."
The Green Connection is only one of fourteen applicants, which is largely made up of small-scale fishers and associations, including Steenberg Cove Small-Scale Fishing Community, Aukatowa Small-Scale Fisheries Cooperative, and Coastal Links Langebaan. Outside the court, small-scale fishers from the West Coast and environmental activists held a demonstration to drive home the message that seismic surveys threaten their livelihoods and endangers the rich, yet delicate marine ecosystem of the region. They also made clear that, in their view, the development of an ocean's economy should have fisher folk at its heart and therefore would not include harmful offshore oil and gas exploration and drilling.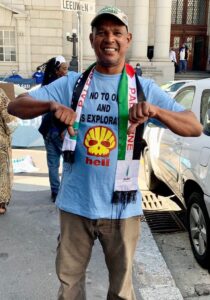 Small-scale fisher woman from Langebaan Coastal Links (and an applicant in the case) Solene Smith says, "I am so happy about today's outcome. I am especially grateful that we – as small-scale fishers, who always have to struggle to be recognised – have such a wonderful team of support behind us. From all the lawyers and legal teams to the people who spend time to ensure that we know our human and environmental rights, we are grateful to have the support of people who care about the wellbeing, the livelihoods, and the heritage of small-scale fisher folk."
Smith adds, "The ocean means so much to us, as many of our ancestors are buried there and already our children and grandchildren have started to develop as skilled fishers. Therefore, as historically marginalised peoples, small-scale fishers, from Durban all the way to the Port Nolloth, must continue to unite and make our voices heard. The more we learn about our rights, enshrined in the Constitution, the more resolved we are to keep up our fight to protect our ocean and our livelihoods from harmful offshore oil and gas developments. We are stronger together."
According to van Rooy, "These small-scale fishers are making such huge sacrifices to ensure that their rights and livelihoods are recognised. If they do not work, they do not get paid. But this is such a critical issue, since the reconnaissance permit granted to Searcher covers such a vast area, an area which constitutes one of the most productive marine systems in the world."
Christian Adams, a small-scale fisher from Steenberg Cove in the West Coast and member of the South African Small-Scale Fishers Collective (SASSFC), is also an applicant in the case.
Adams says, "We, as small-scale fishers take this as a small victory over the corporate greed and arrogance being pushed by vested interests, which will only benefit a few. We are grateful for all the support we have received so far, but the real work is ahead of us now. This is incredibly serious for us, the small-scale fishers of South Africa because we are fighting for our lives. By protecting our oceans from further damage from oil and gas companies, we are fighting for our very right to live and exist in our communities."
"Apart from the scientific evidence, or the lack thereof, what about the potential loss of culture? Because, if the harm stretches as far as we fear, I might not be able to continue to pass on the art of fishing to my sons. If we lose that part of our culture, it can never be replaced. No amount of compensation can redress the loss of culture!," says Adams.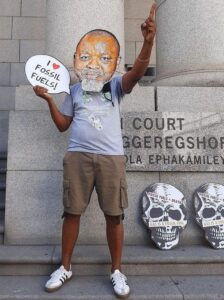 Update:
The Green Connection and the small-scale fishers who recently took Searcher Geodata to court are outraged that the Australian company's vessel still appeared to continue its operations, even after the court order. The interim interim interdict ordered Searcher to "discontinue any activities intended to give effect to or related to the seismic survey of the west and south-west coast of South Africa," until the interim interdict has been argued on 7 March.
However, from available evidence from Marine Tracker and other sources, all signs pointed very strongly that Searcher had possibly continued with its blasting operations into Tuesday 8 February. These signs include the fact that the vessel is still travelling along the traverse lines, which is the predetermined route that was submitted as part of their Environmental Management Programme (EMPr).
Then, the vessel still seems to be operating under a status of "restricted manoeuvrability," which requires it to stay on that predetermined course, which is normal when conducting seismic surveys. Furthermore, the vessel is travelling very slowly (between 4-6 knots), as required for seismic operations, and its support vessel is also still trailing the main vessel.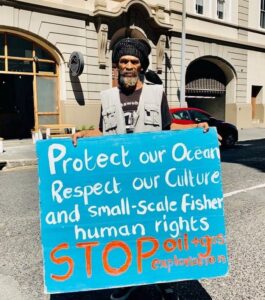 Neville van Rooy says, "It was another nail-biting day for the small-scale fishers today because Searcher's legal team were not forthcoming with an unequivocal and clear written confirmation that its vessels had in fact stopped all related activities. It was only when our lawyers sent them a letter of contempt, that they responded. And from what we can gather, the vessels are headed to international waters, where seemingly no-one has jurisdiction. This really is a blatant show of bad faith from the Australian company."
A number of small-scale fishers who are applicants in the court case – Christian Adams, Solene Smith and Carmelita Mostert – agree, "Should it be found that Searcher had ignored the court order, we must force our government to act decisively and severely punish them. If indeed they continue seismic operations after the court ordered it to stop, this foreign company exposes its disrespect not only for South Africa's judicial system, but also for the local people. However, we take comfort in knowing that the law is on our side and that our legal team will do their best to ensure that the people get the justice they deserve."