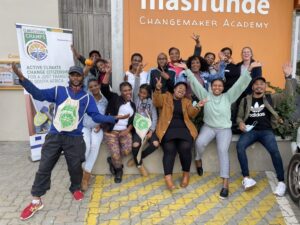 GreenCape in collaboration with Indigo Development & Change conducted a two-day climate change mitigation and adaptation, and skills development workshop for youth and community leaders, civil society, community-based and non-government organisations in Gqeberha, Eastern Cape.
The workshop took place from 24 to 25 May 2022 and is a strategic education and awareness raising element of the 'Active Climate Change Citizenship for a Just Transition in South Africa' initiative.
The recently launched project, 'SA Climate Change Champs', is the mechanism being used to drive the Active Climate Change Citizenship for a Just Transition in South Africa' initiative.
SA Climate Change Champs sets out to capacitate citizens with the confidence and skills to effectively engage with the government about their needs and priorities regarding climate mitigation and adaptation, particularly within the renewable energy space. The project aims to enable communities, women and young people with the tools to proactively, constructively and collaboratively engage in co-creating solutions that address climate change.
The project also involves the creation of climate clubs and a virtual networking platform for high school learners. The intent is to build a community of young people that have a voice to influence national and local climate and energy policy.
They'll take action at their schools and in their communities to be climate change advocates through action. By working through high school teachers, the aim is to reach students and create awareness about the economic, environmental and social benefits of renewable energy and career opportunities available to them in this field.
This initiative is funded by the European Union and implemented by GreenCape in partnership with the Friedrich Naumann Foundation.
Said Cecelia Kok of the Friedrich Naumann Foundation:
"There is just so much potential for young people in renewable energy, particularly in the communities with which we are working. With this project, we aim to create concrete and practical ways for the youth to have a voice that is heard and to help shape South Africa's inclusive, clean and sustainable energy future.
Acting Head of Cooperation, Augustin Bondo Tshiani of the European Union Delegation adds, "We are excited to see the involvement of the Greyton community in this project, excited to see young people and the community becoming passionate and involved in the climate change discussion. Unlocking inclusive green growth for present and future generations is at the heart of the European Green Deal and the only way we will be able to make a difference is by working together."
GreenCape will be visiting several communities around the Western, Eastern and Northern Cape, to host such workshops.