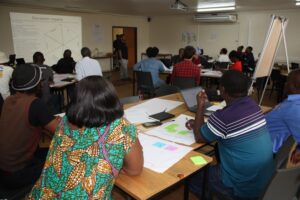 Local entrepreneurs and communities can play a determining role in helping to curb biodiversity loss. With the right support, pro-nature projects can develop into sustainable businesses that improve the lives of people, while also protecting plants and animals.
Biodiversity is crucial to maintaining the delicate balance within ecosystems around the world. Yet, it is also inextricably linked to social and economic well-being and development.
"Biodiversity cannot be maintained by simply shielding conservation areas from human interference. We must also focus on changing the way that humans interact with nature, recognising that this interaction is key to the survival of so many communities," says Chloé Bertrand, Investment Officer at the French Development Agency (AFD).
Bertrand says this requires a more entrepreneurial approach to protecting biodiversity that is not only implemented in consultation with communities but in collaboration with them.
"Global dialogue and political commitment are critical to stopping the acceleration of biodiversity loss. But public policy and government action alone will not be enough – we need to protect biodiversity from the ground up. We must consider biodiversity in a wider range of industries and structures: from city planning to natural resources management, from agriculture to industry, from NGOs to entrepreneurs, and from public institutions to the media," says Bertrand.
AFD's innovative Biodiversity Partners Program (BiPP) hopes to further such an approach in southern Africa by bringing together change makers from diverse sectors and countries across the region to help strengthen their pro-nature projects and foster community-building around restoring biodiversity.
"By providing local entrepreneurs with support and guidance to build sustainable businesses, the BIPP hopes to help empower communities whose livelihoods and quality of life are most severely impacted by biodiversity loss," says Bertrand.
Now in its second year, the BiPP is part of AFD's Research and Knowledge on Biodiversity programme that aims to support development practitioners with new tools and solutions to curbing biodiversity loss. Pro-nature entrepreneurs face the same challenges that keep many small businesses in developing countries from growing and expanding – a lack of access to funding and business skills. However, these entrepreneurs also need additional capacity building to support the integration of biodiversity into their business models and business practices.
Djamila De Sousa runs Karingana wa Karingana, a textile business in Mozambique focusing on sustainable fashion. De Sousa says taking part in the BiPP programme helped improve her understanding of biodiversity.
"I enjoyed finding out more about biodiversity and learning how I can really connect that with the work that I do. Understanding biodiversity and meeting people involved in so many different businesses has also helped me to see how we create synergies among us," De Sousa says.
The BiPP's four-month training programme is designed to blend research about biodiversity regeneration and nature-based solutions with business and project management skills. It includes a design sprint to help participants through the development process for their project or idea and then equips them with skills to better drive the success of their projects or businesses. Delivered in partnership with South Africa's Sustainability Institute, it also includes modules on indigenous knowledge systems and business leadership, branding and storytelling, and writing funding proposals and pitching.
Claire Vige Helie, Learning Project Manager & Trainer at AFD, says the BiPP programme also aims to promote new ways of learning.
"We are convinced that being able to tackle biodiversity challenges is not only intellectual. Our motivation to act is also based on a deeper understanding of our relationship with nature, on different levels of consciousness. We integrated one module on deep ecology, time spent in nature, and interactive learning activities to nurture this enthusiasm for growth among the participants."
Biodiversity and nature are integral to the local economies of many communities throughout southern Africa. In some cases, this means that addressing biodiversity will also require communities to move away from current survival strategies that perpetuate the exploitation of nature.
"These shifts need to take place within a context of a continent with a bulging youth population already faced with inadequate access to employment opportunities. This means that solutions to addressing biodiversity loss must be developed with social and economic factors firmly in mind," says Bertrand.
The projects championed by local entrepreneurs like Kondwani Khonje, one of the participants in the BiPP programme, aim to do just that. Khonje's business, located in Malawi, uses ecological processes to support sustainable banana production while also supporting livelihoods. The Kabidula Ecological Banana Farm focuses on promoting the conservation of indigenous banana varieties among smallholder farmers and promotes sustainable farming practices.
"We use conservation agriculture and afforestation interventions. We deliberately avoided tillage of the land and reduced land clearing or cutting of trees when we established the farm. The natural landscape is integrated with the production of banana plants," Kondwani explains.
Halumba Munachonga, another BiPP participant, aims to safeguard biodiversity by combining traditional knowledge and protection of local seed systems in rural Zambia. Munachonga has founded the Ndola Nutrition Organisation, a non-governmental organisation, and is piloting a project with 273 small-scale farmers – mostly women – in indigenous seed growing, storage and multiplication.
"We support forming local seed fairs and help to create indigenous seed banks. The local varieties of sorghum, cowpeas, and groundnuts are more resilient to climate change and more nutritious. The BiPP programme helped me to connect with other people but also showed me the importance of connecting with nature," says Munachonga.
Next week, world leaders will be meeting in Montreal, Canada, for the global United Nations Biodiversity Conference (COP15). A lot is riding on this year's conference as governments from around the world will attempt to agree on the post-2020 global biodiversity framework, an ambitious plan to implement broad-based action to protect biodiversity and restore ecosystems.
Bertrand says that while the stakes for COP15 are no doubt higher than ever before, policymakers should remember the importance of finding innovative solutions to implement the commitments they make.
"With the right support, local companies and entrepreneurs can be instrumental in helping to develop these solutions to protect not only their own livelihoods but all life on earth," says Bertrand.