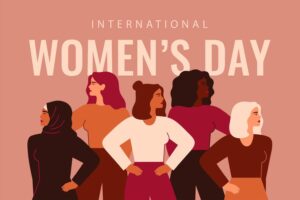 On International Women's Day, advocacy groups analyse South Africa's socio-economic stressors through a feminist lens, envisioning what an alternative future for women could look like.
Women continue to champion the cause for a future in South Africa where women are treated equitably, shielded from violence and can enjoy undisrupted access to vital healthcare services. Civil society organisations believe this is not just an ideal, but a possibility.
Gender equality is a key ingredient for an equitable future. As the climate crisis intensifies, it has been shown that women will disproportionately feel the effects more acutely than men.
While urgent climate action must be taken by the leaders of African nations, civil society urges governments to centre women in the dialogue of mitigation measures.
Greenpeace Africa Climate and Energy Campaigner Thandile Chinyavanhu said:
"We cannot deny the intersectional nature of the climate crisis, where women and adolescent girls are on the frontline. Damage to infrastructures, such as bridges and public health centres, after extreme weather events, disrupts women and young girls' access to sexual and reproductive health services. Historical income inequality and barriers to land ownership mean we are less equipped to handle climate shocks. Scarcity and conflict post-disaster expose women and young girls to more incidences of sexual and physical violence. We have the opportunity to correct course now; through centring women and girls in our climate response, we can build an alternative future where women are empowered, and less vulnerable to climate shocks."
Studies in Poverty and Inequality Institute (SPII) Director Isobel Frye said:
"Our collective priorities must provide decent, universal safety nets to ensure that our necessary adaptations for a just transition do not cause more harm and human misery. My well-being depends on you being secure. We have the ability to and poverty, to improve the lives of women and girl – children and to reduce vulnerabilities. Tomorrow is shaped by our actions today."
Centre for the Study of Violence and Reconciliation (CSVR) Acting Advocacy Programme Manager Gugu Nonjinge said:
"2022 is a significant year for climate action in Africa and it has become apparent that it is not just the political, technological, and environmental aspects of climate action that need attention, but that people are at the very heart of its effects. Therefore, solutions to climate change need to be wholeheartedly and unapologetically intersectional, they ought to follow a contextualised and nuanced approach, and while mainstreaming considerations of climate change in the context of human rights is an important first step, we need to go one step further and talk about justice and focus on rebuilding equitably in the interests of all, particularly the most vulnerable and marginalised."
Amadiba Crisis Committee Spokesperson and Environmental Human Rights Defender Nonhle Mbuthuma said:
"Women have a strong and important role to play in the land issue. Without women on the frontline of this struggle, the land would have been sold a long time ago. As an African, land is precious, inherited by our children. If you take land away from us, you take the most precious thing in our lives. This is where women play an important role in defending the environment. To destroy nature is to destroy the mother. Women are not easily bought. We fight for our children."
The Embrace Project Director and Co-Founder Lee-Anne Germanos said:
"We are approaching our fourth year since South Africans first protested a #TotalShutdown due to the obscene rates of gender-based violence and femicide (GBVF) in the country. The government's response to this so-called 'second pandemic' ravaging the country has included the setting up of a Response Fund, working groups and a soon-to-be National Council on GBVF; and the passing of legislation, and policy. The rates of GBVF are, however, the worst they've ever been. If we are to ever beat this pandemic and have a truly equitable society, we (as South African society and the South African government) need to be serious about a holistic response to a problem that threatens our way of life and our democracy. We need to address the causes of GBVF at their roots, and not just treat the symptoms as we are doing now. That is how we would truly celebrate International Women's Day."
Intersectional Climate Activist Raeesah Noor-Mahomed said:
"Right now we live in a system that puts profit before people. If we want to achieve a sustainable future, we have to have fierce, radical empathy, not only for each other and the planet but for what is right. Capitalism has created a world that benefits few at the expense of the majority, the marginalised. If I could initiate a change, I would be a call for people to have enough love and empathy to fight for a future where nobody is left behind."