Black River Mouth Clean-up
September 8, 2019 @ 14:00

-

16:00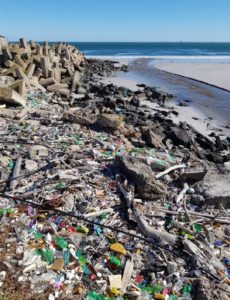 Anyone who takes a walk along our Cape Town beaches and rivers can testify: we are drowning Mother Nature in waste – whether from individual consumers or household products, industrial waste and even medical waste. If you have not seen this, then it is due to volunteer groups cleaning up these sections for us.
One area that is especially vulnerable to such pollution is where rivers meet the sea. Researchers have found that, where rivers flow into the ocean, the density fronts between fresh and salt water help to concentrate zooplankton and larval fish, making them more available to predators. They found that predatory seabirds and prey fish were more in abundance in the area where the salt and fresh water mixes, pointing to the importance of good water quality where rivers run into the sea.
The reality, though, is that sea birds and fish are likely to be getting a high dose of man-made substances in their daily feeds in these areas.
The Black River is a case in point. It flows through the neighbourhoods of Gugulethu, Athlone, then alongside several highways past Mowbray and Maitland, is joined by the Liesbeek River that passes through Rondebosch and Observatory, and finally reaches the sea in the industrial area of Paarden Eiland.
With the enormous amount of pollution and illegal dumping taking place along its winding path to the ocean, the level of pollution of the fresh and sea water mass is devastating for bird and marine life.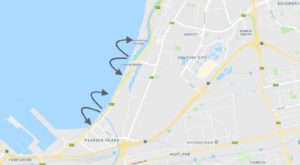 Identifying an urgent need
What makes things worse is that uncontrolled dumping means that, during heavy rain, plastic, mattresses, TVs, nurdles (small plastic pellets about the size of a lentil) and other waste wash down the river into the ocean, together with street litter made up of plastic, polystyrene, cigarette butts, crisps packets, to name a few.
There are two rivers, roughly 600m apart, that flow into the ocean close to Milnerton, one being the Diep River from Northern suburbs into Lagoon beach and the other being the Black River from northern suburbs as well as southern suburbs, flowing into the beach opposite Paarden Eiland.
Volunteers, civilians, are mobilising to push back against the tide of trash on our beaches and rivers on both of these Rivers to try stop it from source. These two groups are lead by Radio Pulpit's Kosie Beukes and the Plastic Pollution Initiative group led by Chavonne Snyman, Help-Up, lead by Georgia McTaggart who works diligently closer to the source of the problem with a small homeless team to remove a big chunk of plastic at the Black River Parkway, Mowbray. Charmaine Smith looks after the Liesbeek River before it joins the Black River.
The accumulative effect is shocking. Various clean-up teams have estimated that one of these rivers pushes around 70 volumes of black refuse bags of plastic and polystyrene into the ocean every day even after cleaning up.
They invite you to join them on Sunday in this quest: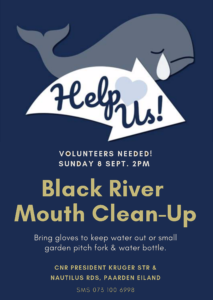 Read more: