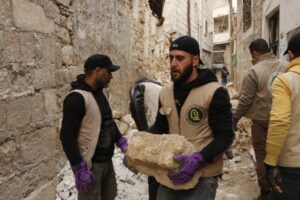 The race against time continues in Syria as the Gift of the Givers (GOTG) team continues their tireless search for survivors under the debris of the Kahramanmaras earthquake in Syria and Türkiye.
A week has passed since the disaster struck, but the GOTG team is not giving up. They are sending all their love and support to their heroes on the ground, who are doing everything they can to bring hope and help to those in need.
There was much excitement, jubilation, hope and faith today as GOTG and the Omani team worked collaboratively to retrieve a live 80 year old lady from the rubble in Hatay, Türkiye.
Congratulations to the SAPS K9 dogs who detected the live individual!
GOTG achieved the same success on Day 8 in Haiti in January 2010 when they retrieved alive, 64 year old Ena Zizi in the collapsed Catholic Church.
GOTG staff in Syria and Türkiye awoke to a terrifying tremor at 04h10 last Monday, a magnitude 7.8 earthquake struck various villages and cities in both Türkiye and Syria. Their teams rapidly evacuated the children from their Bayt Kareem Child Care Centre in Gaziantep, Türkiye, whilst in Darkoush, Syria, GOTG medical teams were on full alert to respond.
The casualties started arriving with 25 deceased and 100+ injured and they are pouring in. The casualties in both countries are expected to increase exponentially. Freezing cold, rain and snow are hampering search and rescue efforts.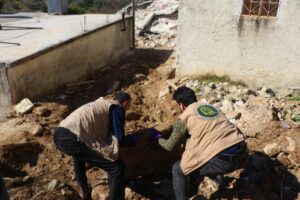 Turkish Airlines facilitated the transport. Medical supplies, equipment, consumables, tents, blankets, food and other humanitarian aid were purchased in Turkey.
GOTG are expanding their volunteer medical, search and rescue teams. Those interested can message Dr Qasim Bhorat 0842307866 (medical) or Ahmed Bham 0735716392 (search and rescue).
Those wanting to assist financially can deposit into Gift of the Givers, Standard Bank, Pietermaritzburg, Account number 052137228, Branch Code 057525, ref Turkey.