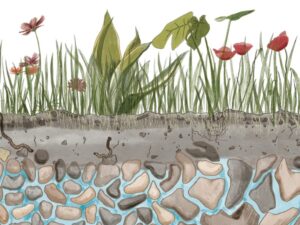 Groundwater is a critical resource to the world. In fact, it provides almost half of all drinking water worldwide, not to mention about 40% of water for irrigated agriculture and about 1/3 of water required for industry. More than this, it is also crucial in sustaining ecosystems, maintaining the base flow of rivers and even in preventing land subsidence and seawater intrusion.
The challenge with groundwater is that it is an invisible resource, and the principle of 'out of sight and out of mind' comes into play here. This is why the focus this year is on 'invisible groundwater', as being invisible doesn't mean it isn't impacted by human activities and climate variability, both of which are placing more pressure on groundwater resources, due to depletion and pollution problems.
This is certainly the case in SA, as was noted in the national infrastructure plan 2050, with the government warning that seven out of 13 major water systems could be in deficit by 2040.
According to Kate Stubbs, Marketing Director at Interwaste, wastewater and effective water treatment and management is fundamental to not only meeting government objectives in relation to water, but also for addressing safer drinking water and larger access to water across the country.
"We have a huge job to do to create a water supply that is safe and consistent. We need to create a much more diverse water mix, one that includes groundwater and water reuse. We must also fix the infrastructure and skill deficiencies and start embracing technologies; we must plan for the impact of climate change; and we have to ensure effective wastewater management and treatment," she says.
"Interwaste believes the solution lies in improving water quality through the minimisation of pollution and the release of chemicals and waste into water, as well as by increasing the recycling and reusing of water."
Stubbs adds that wastewater that is properly treated, according to the required standards set out by national environmental agencies, can be reused effectively. The company indicates that nearly all effluent can, in fact, be recycled as long as it is processed properly.
"Innovative wastewater management can therefore result in the redistribution of such treated water into the environment, for irrigation and dust suppression purposes. In addition, it can even be utilised to replenish rivers and catchments within SA's water infrastructure networks."
The different technologies are so advanced today, continues Stubbs, that it is possible to treat effluent to a degree that it can be used to provide potable (drinking) water for areas where it is in short supply.
"However, to truly ensure a safer and more robust water supply, we need corporate South Africa and government to work together to build suitable infrastructure to support the water mix and find the solutions that are the most effective, economical and efficient," she says.
One such corporate is L2D, a precinct focused, retail-centred real estate investment trust (REIT) with a portfolio of quality, iconic property assets. The company is a leader in creating spaces and green buildings that are sustainable and that work for both the tenants and the consumer.
Amelia Beattie, Chief Executive of L2D, points out that all the company's retail assets have achieved Green Star certification – an objective measurement for green buildings that recognises and rewards environmental leadership in the property industry.
"Our IMPACT value proposition further enables us to communicate our progress regarding relevant Environmental, Social, and Governance (ESG) factors under a single umbrella, supporting efficient reporting. IMPACT ensures that we conduct assessments for energy, water and waste management to promote the efficient use of resources across the portfolio," she explains.
"As part of IMPACT, L2D investigates and implements the continuous reduction of water usage and reuse in the portfolio. Through a programme called Good Spaces, we also ensure that we continue to reduce our operations' impact on the natural environment, which includes developing a Net-Zero water strategy."
Bearing in mind that ground water accounts for 40% of water for irrigated agriculture, she notes that in 2021, L2D has saved 12 million litres of water in the last year across the portfolio, equating to 3% of the total portfolio consumption. This has been achieved through, among others, the implementation of rainwater harvesting systems and dual plumbing, condensation water harvesting and advanced low-flow toilets and through continued water resilience planning.
Additional water-efficiency initiatives are continuously investigated.
"These strategies protect the natural water cycle and save water resources for future generations. Furthermore, reductions in water consumption decrease building operating costs and bring about other economic benefits especially for our tenants. This is in line with our ambition of mitigating our negative environmental impacts, and we are targeting Net-Zero Water readiness across our portfolio by the end of 2025," states Beattie.
Stubbs suggests that all efforts to decrease the total amount withdrawn from rivers, streams, underground aquifers, and other water bodies are good – especially in a water-stressed country such as South Africa. These strategies protect the natural water cycle and save water resources for future generations, while reductions in water consumption also decrease current building operating costs, not to mention affording wider economic benefits.
"The reality is that, if we don't focus on securing safe water resources, we risk placing additional strain on human health, productivity and consequently economic development, not to mention the sustainable ecosystems of the future. Thus, there has never been a better and more pressing time for companies within the public and private sector to play their part in the sustainable management of our most precious resource," she concludes.
World Water Day is observed on March 22 to raise awareness about the importance of water and educate people to conserve it. The theme for this year is "Groundwater, making the invisible visible."