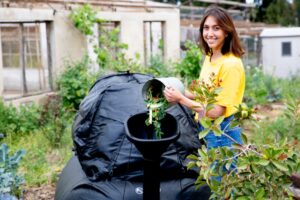 HomeBiogas develops biogas systems enabling people and businesses to turn their organic waste into clean energy for cooking or heating, on-site.
HomeBiogas is a publicly traded Israeli company engaged in developing, manufacturing, distributing, and selling domestic and industrial-scale biogas systems that offer a comprehensive solution for waste management, renewable energy creation, clean cooking,
fertilizer production, and sanitation.
Homebiogas systems tackle the following challenges:
Climate Change: reduce methane emissions.
To date, HomeBiogas avoided 86,000 tons of Greenhouse Gas emissions. The recently published IPCC report prompts calls to tackle methane emissions, stating that methane gas has more than 80 times more warming power in the near term than CO2. Each unit saves 1,500-2,000 tons of annual carbon emissions, currently values at around $5,000-10,000.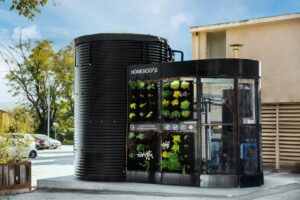 Reduce Waste: To date, HomeBiogas kept 15,000 tons of food waste in circulation.
The cost of handling organic waste created by institutions in the US is estimated at $55 billion; The anaerobic digestion market is expected to surpass $15 billion by 2025 with a CAGR of 10.62%; The global market of new sanitation technologies designed for low-resource settings is estimated to reach over $6 billion by 2030.
Renewable Energy: HomeBiogas uses anaerobic digestion to convert these organic materials into fuel for cooking or hot water.
Total global expenditures on wood fuel for cooking are estimated at approximately $50 billion.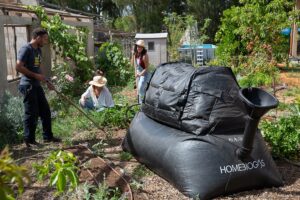 HomeBiogas uses anaerobic digestion to convert these organic materials into fuel for cooking or hot water and into organic fertilizer. In addition, HomeBiogas reduces the costs and emissions associated with sending food waste to landfills.
Home Biogas has proven success in the consumer sector: HomeBiogas sold over 14,000 systems in 110 countries. The company has signed distribution agreements for its products in several countries (including India, Pacific Islands, Colombia, and El Salvador).
Today, the world produces over 2 billion tons of solid waste, and that's expected to grow to 3.4 billion tons by 2050. By volume, global waste includes 44% food and organics, which is where the HomeBiogas solution comes in. A United States Environmental Protection Agency (EPA) report from July 2020 on Wasted Food Measurements estimated that the Hospitality and Institutional sectors, which are only responsible for 25% of total food waste, generated 24 million tons of waste in 2016.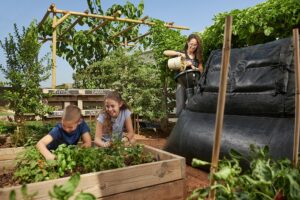 HomeBiogas is part of the circular economy, estimated at $4.5T by 2030: Circular economy business models offer a clear pathway toward achieving our collective climate goals, tackling the greenhouse gas emissions tied to the extraction, processing, manufacturing, and landfilling of goods. HBG also helps reach ESG goals: we collaborate on humanitarian and CSR projects with international organizations such as USAID, EU, UN, the International Red Cross, the Adani foundation and is a member of the Clean Cooking Alliance.
To date, HomeBiogas avoided 86,000 tons of Greenhouse Gas emissions and kept 15,000 tons of food waste in circulation.
Industrial system
HomeBiogas is now distributing a new product, aimed at industrial kitchens such as hotels, restaurants etc. The industrial systems convert 1 ton of waste per day on-site, while producing clean energy for use. All while only taking up the space of 2 parking spots.
Home System
HomeBiogas owners can create a closed ecological ecosystem in their backyard. Waste goes into the system, which produces fertilizer to grow more food and gas to cook the food- which will produce leftovers that will go in the system and so on.
Each household system diverts 1ton of waste from landfills every year and offsets 6 tons of CO2 a year, which is equivalent to a vehicle's annual carbon emission.
Bio Toilet
Using an anaerobic system, it decomposes waste and transforms it into renewable biogas for cooking. While flush toilets use an average of 9 liters per flush, the HomeBiogas Toilet only requires 1.2 liters, meaning that you can save up to 40,000 liters of water a year.
This solution can help significantly decrease your water footprint and overall environmental impact since reducing water usage also reduces energy use, pollution, and resource use.
According to the World Health Organization, 2.3 billion people in the world have no access to basic toilet facilities. The Bio-Toilet solution connects to the HomeBiogas biogas system, enabling the human waste from the toilet to be converted into cooking fuel in a user-friendly way that does not require a connection to the sewage or water grid.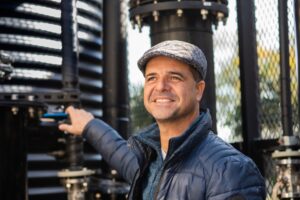 Oshik Efrati, CEO of HomeBiogas:
"I founded HomeBiogas in order to impact the world on many levels. Today, HomeBiogas is impacting important, pressing issues around the world such as climate change, waste management and renewable energy. Our systems can be found in 110 countries around the world and we have already avoided 86,000 tons of Greenhouse Gas emissions and kept 15,000 tons of food waste in circulation. Our next goal is to reach over 500,000 medium and large-scale food service facilities in the US and EU markets that need to join the circular economy and join the effort of saving our planet."