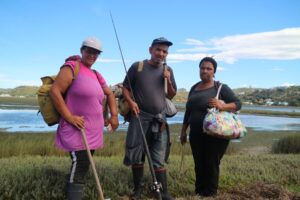 Climate change. Economic and social recovery from Covid. Growing unemployment and deepening inequality. These are just a few of the issues facing South Africans today.
Recent events have exposed that our towns and communities are not resilient/strong enough to cope with the economic and energy shocks (such as loadshedding), nor to deal with the extreme weather events that are expected to increase, as the climate crises intensifies. These are huge and complex problems which our existing social, political, and economic systems are not able to fix.
According to The Green Connection's Economics Researcher Gillian Hamilton, "Even before Covid, we already had very high levels of inequality, joblessness, and poverty, which have only become worse. This is particularly concerning when we consider that many South Africans are not meaningfully involved in the decision-making and planning processes for their towns and regions."
She says, "The Koeksister Project – in partnership with the Heinrich Boell Foundation – leans on research from around the world, where people are finding ways to address some of the huge problems we face, by working together and building community-led solutions. The Koeksister model therefore 'plaits' together three concepts, namely Doughnut Economics, Transition Towns and Commoning – which we will unpack in the workshops. The project seeks to answer two important questions. First, how can we create resilient towns? And second, how can all the residents of these towns thrive?"
According to Raworth (2017), the doughnut in Doughnut Economics is a simple visualisation of the dual conditions – both social and ecological – that underpin collective human wellbeing and a vision of a world in which people and planet can thrive in balance.
Transition Towns – there are currently over 1000 all over the world, with a growing network – refers to a grassroot movement that aims to increase self-sufficiency and build reliance to deal with climate destruction and economic instability. This model emerged from the permaculture and localisation movement, while drawing inspiration from feminism and indigenous cultures and looks at things like appropriate localisation and low-carbon community assets and considers how to live within a region's natural limits and is not driven by personal profit.
The idea of commoning seeks to create social practices that manage access to and avoids the overexploitation of common pool resources such as land, oceans and the Internet. This relies on a better understanding of the level of care the community feels for their natural resources and for the community itself. The project also aims to identify the job creation potential, for each sector, at various points in the supply chain. It will also consider the economic impact on local and regional development, while also identifying any barriers to relocalising for each sector.
The Green Connection is an eco-justice organisation that works with small-scale fishers and coastal communities around the country, raising awareness about human and environmental rights issues to promote the protection of our oceans, especially from oil and gas drilling. Introductory workshops about the Koeksister Project will be held in (1 per location) – in Langebaan (9 February), Hopefield (10 February), Vredenburg (11 February), and Saldanha (12 February). The public and media are welcome to join.
According to Hamilton, "Building our resilience is key to dealing with the impacts of climate change and we hope that the residents of Saldanha Municipality will see the value of participating. First, we will explain the concept of the Koeksister model, then we hope that community members will join the different working groups (over the next few months), depending on which part of the Koeksister project interests them. It could be on job creation, social issues, having your voice heard in your integrated development plan (IDP), business and livelihood opportunities, environmental concerns, or other concerns you may have in your municipality."