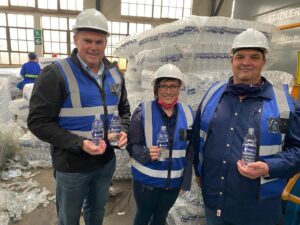 According to the Designing for the Environment guidelines, components such as closures and labels should be designed in such a way that they can be easily, safely and cost-effectively separated and then eliminated from the recycled PET.
PETCO and one of their recycling partners, Extrupet, recently teamed up with PETCO member Oasis Water and global label producer MCC Label to conduct a recycling trial on a range of pressure-sensitive adhesive labels.
This is the third such successful labelling trial this year, providing more options for improving the quality of PET recyclate and assisting producers to meet Extended Producer Responsibility (EPR) and sustainable packaging targets set out by the Section 18 Legislation.
In the past, adhesive labels have been problematic as residue from the labels purges into the recyclate and discolours it. This discoloured recycled PET (rPET) cannot be repurposed into high-quality, clear plastic beverage bottles, and is then fit for only a limited range of products.
Using 20 000 Oasis Water PET bottles as the test base, MCC Label tested two of their recycLABEL products – a white and a clear polypropylene pressure-sensitive label of varying thicknesses.
The labels were applied to the bottles and then put through their paces during Extrupet's state-of-the-art recycling process.
"A clean flake and clean shredded label particle are paramount in PET recycling," said MCC Label's Harry Havenga. "Our adhesive dissolves in the wash process, which means that there is zero carry-over in the extraction process. This also benefits the recycler since very limited adhesive residue remains in the wash water. MCC Label can now offer brand owners, under pressure to ensure closed loop recycling, an array of labelling options at a competitive price."
The recycLABEL substrate is produced by MCC Label in either Germany or the USA. Converting can take place at any of its three production facilities in South Africa and, as the trial demonstrated, the internationally recognised wash-off label can stand up to testing under local conditions.
"We can't assume that because a label has been validated as recyclable in another country, it will work here. Recycling plants and equipment are not the same globally and we have to test and validate each product under South African conditions," explained Extrupet joint managing director Chandru Wadhwani.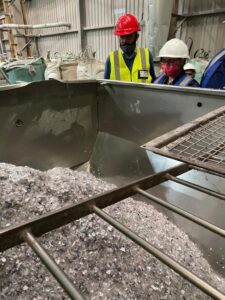 MCC is the third label manufacturer to successfully trial more sustainable options, following the wash-off adhesive trials by UPM Raflatac and Java print and a trial done by Avery Dennison earlier this year.
PETCO CEO Cheri Scholtz welcomed these positive developments.
"Under the new EPR regulations, it is critical that we start redesigning problematic packaging with recycling in mind. We expect to see demand from obligated producers grow and we look forward to seeing innovative solutions from more of our local label manufacturers."
As of November 5, 2021, producers in the packaging sector are required by law to comply with EPR regulations laid out in Section 18 of the National Environmental Management Waste Act (Act 59 of 2008).
The legislation, which came into effect on May 5 this year, gave producers six months to register with the Department of Forestry, Fisheries and the Environment and join a registered producer responsibility organisation such as PETCO, or establish and implement their own EPR schemes.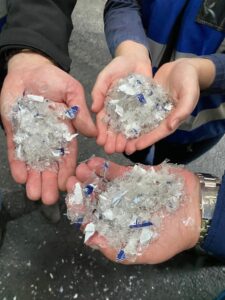 "The regulations compel suppliers and brand owners in the packaging sector to assume responsibility for the management of packaging waste, including collection, sorting and recycling, over and above any health and safety issues associated with their products," said Scholtz.
"EPR applies to everyone in the packaging chain, from the brand owner to the retailer and importer of packaged goods. All packaging and associated products must be certified recycling-friendly by a South African recycler.
"We commend MCC Label for their commitment to making sustainable PET packaging a reality, and we applaud Oasis Water for once again providing the bottles," added Scholtz.
According to Wadhwani, Extrupet is planning a trial on floatable polyolefin shrink sleeve labels before year-end.