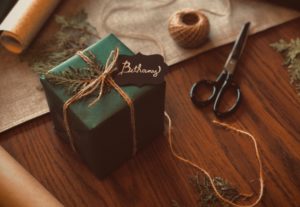 The holidays can be surprisingly heavy on waste, so it pays to be mindful of yours these holidays. Not only will you reduce your environmental footprint, but you can also support waste collectors by ensuring that your recyclables are clean and separate.
December is often a time for people to do a bit of a declutter at home or at the office. If it's time to clear out those files, make sure that paper goes into a recycling bin!
According to RecyclePaperZA, the paper recycling association of South Africa, white or office paper is among the least recycled products in South Africa. This is largely due to filing and piling of documents.
One tonne of recycled paper, however, can save up to three cubic metres of landfill space. The 1.2 million tonnes of paper and paper packaging responsibly discarded and recycled in South African in 2019 saved 3.6 million cubic metres of landfill space. That's the same as 1 442 Olympic-sized swimming pools! Sadly, a significant amount of recyclable paper and packaging is thrown away with food or garden waste, ending up in a landfill.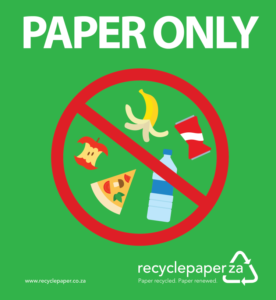 Paper recycling tips
Always have a separate bin, box or bag for your paper recycling. This keeps it clean and dry.
Decide what you will do with your paper recycling – separate it for a waste collector or drop it at a recycling centre.
Do not mix your paper with other recyclables.
Get to know what is recyclable and what is not:
| | |
| --- | --- |
| Recyclable: | Not recyclable: |
| Office paper | Foil gift wrapping and foil lined boxes |
| Cardboard boxes | Wax coated or laminated boxes |
| Beverage cartons | Empty cement and dog food bags |
| Paper coffee and soft drink cups | Disposable nappies |
| Magazines | Carbon paper |
| Newspaper | Sticky notes |
| Paper packaging | Paper towels |
Office paper
Keep white paper in a separate bag to other paper products if you can.
Avoid crumpling paper into a ball – flat is best as it takes up less space in a waste collector's trolley.
Remove plastic covers or binder spines before putting your paper in the recycling bag.
For confidential documents, it is best to tear these up – preferably down the middle of the page. Shredding often presents problems for recycling operations as it shortens the paper fibres and diminishes the quality of paper for recycling. Shredded paper is also difficult to bale.
Packaging
Flatten the hoard of cardboard boxes from your online shopping and place next to your bin on rubbish collection day. Waste collectors will be grateful!
Remove any plastic elements and recycle these with your plastic – if they are recyclable.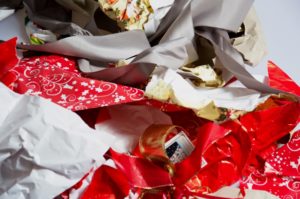 Wrapping paper
Avoid using foil-based gift wrap, as this is not recyclable. Opt for patterned paper gift wrap or brown kraft paper to package your gift.
Liquid packaging
Milk, juice, custard and wine cartons are recyclable in South Africa. Empty, rinse slightly, lift the corners, flatten and replace the cap.
Push straws into little juice boxes.
Coffee cups are also recyclable!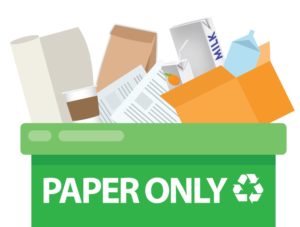 Did you know?
26 December – or Boxing Day – was traditionally reserved for clearing out unused or unwanted items? These items were given out to the less fortunate in boxes.
The 1.2 million tonnes of paper and paper packaging recycled in South Africa in 2019 would, when baled:
Stretch from Kempton Park to Cape Town if the bales were laid end to end.
Fill 1 442 Olympic swimming pools.
Cover 219 soccer pitches, one bale deep.