Civil society movement We Are South Africans has begun the process to seek an interdict to stop Australian company Seismic Searcher from its 2D/3D seismic survey, planned to commence off the Western Cape coast on 15 January.
A Reconnaissance Permit in terms of Section 74 of the Mineral and Petroleum Resources Development Act (No. 28 of 2002) was granted by the Petroleum Agency of South Africa on 9 November 2021 with an effective date of 6 December 2021.
The company also claims to have included a formal 30-day public review and comment period, no trace of which can be found in news articles.
The project has been kept out of the public eye, with both the permit being granted and the seismic survey beginning while most South Africans are still on holiday.
The survey will last 55 days (up to 180 days) by the vessel BGP Pioneer, supported by Marianne-G. They will be towing a source array and 1 streamer cable, extending up to 12 kilometres long, astern of (behind) the vessel and approximately 8 metres below sea surface.
In 2D seismic surveying both the blast and sound detectors (numbering up to a hundred or more per charger) are moved along a straight line.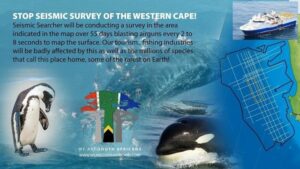 In 3D seismic surveying, the sound detectors (numbering up to a thousand or more) are spread out over an area and the blast is moved from location to location through the area. Seismic testing involves sending regular "blasts" under water in short sequence to create a map of the surface and sub-surface.
The noise generated can reach 250 decibels as the sound waves generated by the blast penetrate the seabed. In comparison, the loudest whale noises range between 140 and 190 decibels.
This sound is proven in multiple peer-reviewed research papers to disturb, scare and alter marine life such as separating whales and their calves.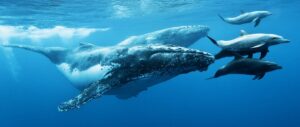 This affects:
This would be detrimental to our tourism industry. It would also affect our fishing industry and communities off the West Coast, not to mention our famous snoek.
To top it all the ship BGP Pioneer (pictured below) has warned mariners that it is severely restricted in its ability to stop or turn and needs a minimum all round clearance of 11km ahead and abeam (on a line at right angles to the ship's length) and 17km astern (behind the ship) (9NM). How will it stop to protect wildlife?
We Are South Africans is the largest civil society movement in South Africa, reaching 15 million South Africans. They are demanding that this survey be halted with immediate effect.
Join the chorus
Please sign the petition, and help protect the marine life, environment, fishing and tourism industries of the Western Cape.
The petition will be delivered to the President of the Republic of South Africa; court documents will be sent to Seismic Searcher and Minister Gwede Mantashe, and Minister Barbara Creecy will be receiving the petition with further litigation against them.