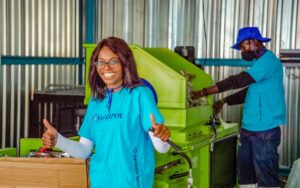 Despite all odds and the challenges brought about by Covid-19, Johanna, the owner of Bophelo buy-back centre and her team of waste reclaimers were able to make grass-roots impact in Ermelo, by improving the lives and livelihood of community members while making a positive improvement on the environment.
When Safripol in partnership with PETCO was announced as the winner of the prestigious 2020 CAIA Responsible Care Initiative of the year award – Corporate Social Responsibility category – for the Bophelo recycling project in Ermelo, they recognised that the true heroes of the project was Johanna Leshabane, and her team of waste reclaimers, and they knew they had to do something to reward them.
The CAIA award recognised the impact which was created by the Bophelo recycling project, which since the joint Safripol and PETCO sponsorship of R500k in 2019, is now a fully-fledged buy-back centre collecting and buying recyclables such as plastics, cardboard, white paper, mixed-colour paper, cans and glass, from informal settlements, house-holds, and schools, in and around Ermelo.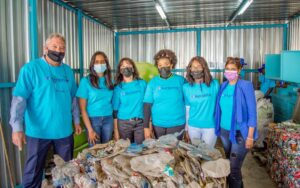 Since the joint investment, the centre increased its PET collection volumes reaching 9.5 metric tons in 2019, with a further 7 metric tons collected in 2020, which otherwise would have remained in the environment as waste, and would have been lost to the recycling industry. The project also employed 11 permanent employees and 20 part-time waste collectors from the local community, creating much needs jobs in the area.
One of the challenges which Johanna had which limited her ability to grow the business even further, was that the site had no access to municipal electricity, which meant that even though she had a baler, she was forced to sell loose waste to recyclers at a lower price. To take the business to the next level, the buy-back centre was in desperate need of a generator so that waste could be baled on site and sold for higher value in the market.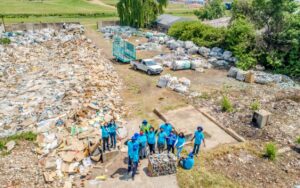 As a reward for the CAIA recognition, Safripol sponsored a generator to the Bophelo buy-back Centre to enable them to run their baler off the grid, which is a more sustainable option for the business. PETCO also retrofitted the baler with the required specifications to ensure ease of operation.
At the special hand-over event for the generator and retrofitted baler at the Bophelo Buy-back centre which took place on 6 October 2021, representatives from Department of Agriculture, Rural development and environmental Affairs (DARD) for the Mpumalanga Province, and the local district municipality, who were also in attendance showed their full support for the partnership and praised the project for the impact it is having in the community.
Johanna Leshabane said that she was very grateful to both Safripol and PETCO for the their continued support, and is hoping that now that the baler is operational, her team will generate more income and create more jobs in the community.