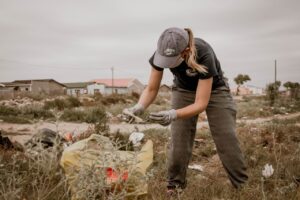 A unique African-centric litter reduction campaign which is being piloted in South Africa will – once trialled and tested – be scaled and used throughout the continent.
According to marine conservation non-profit Sustainable Seas Trust (SST), its flagship litter-reduction campaign, Operation Clean Spot (OCS), aims to reduce land-based litter by up to 90% in some communities. With its mandate to support a blue economy by helping Africa's oceans become litter-free, the organisation wants to use OCS to combat pollution in the environment before it reaches the sea.
Trials of OCS have kicked off in Nelson Mandela Bay and Jeffreys Bay, where SST is working with ward councillors, schools, households and informal waste collectors.
It aims to achieve its drastic litter reduction targets by creating a waste management model for African contexts and communities and spanning all income groups while opening up revenue streams for waste collectors in the informal sector. Simultaneously, it aims to keep recyclable materials within the economy and out of landfills.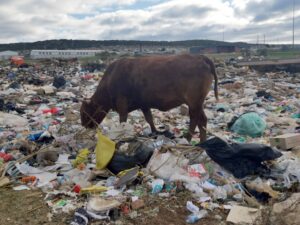 "In addition to working towards SST's long-term goal of 'Zero Waste to the Seas of Africa,' this project aims to identify easy-to-implement project design principles within a proof-of-concept model that can be used in other South African and African contexts," said Janine Osborne, SST CEO.
"This is an authentically African model, with scalability and positive implications for our African partners and stakeholders."
Once trialled, SST plans to distribute its OCS model throughout the continent using its African Marine Network and its partners.
Here is how the OCS trial is unfolding:
At a municipal level, SST is offering waste minimisation support and guidance to local authorities, based on its scientific research in the sector and its Africa-wide partner network.
At schools, OCS is educating pupils on how to identify and separate recyclable waste generated in their households from general waste headed for landfills – termed "separation at source." This empowers pupils to become "recycling champions" in their households, motivating their parents or caregivers to join in.
Neighbourhood programmes, meanwhile, involve educating households about the importance of often-maligned and misunderstood waste collectors. This is being achieved through a combination of neighbourhood education drives, workshops, and by sourcing personal protective equipment (PPE) and clothing for the waste collectors so they can be easily identified by households.
On a broader scale, using its website and social media channels, OCS is galvanising individuals and businesses to "adopt-a-spot" in their respective communities which they commit to keeping clean on a consistent basis, logging the clean-ups of their spots – and the amount of litter collected – on the OCS website to measure progress for the public to see.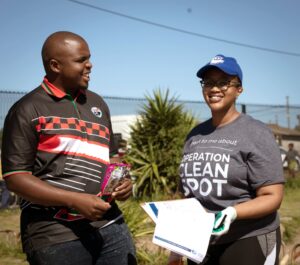 Cheri Scholtz, CEO of South Africa's longest-standing producer responsibility organisation, Petco, said collaborating on projects like Operation Clean Spot helped to unlock the supply of recyclable materials to drive South Africa's circular economy. Petco has partnered with the OCS programme, sponsoring PPE and training for participating waste collectors.
"Recyclable materials have real value for everyone in the collection and recycling value chain – from the collectors who earn an income from selling these materials to the producers who ultimately use the recycled content in their products and packaging," Scholtz said.
"Supporting Operation Clean Spot is one of the ways we are building capacity in the informal collection sector and helping to integrate it into the formal value chain."
The OCS trials, which aim to wrap towards the end of the year, comprise the following activities:
Scientific research: Using standardised methods to measure the volume of pollution at selected sites – referred to as baselines – and monitoring changes following interventions to clean the trial sites.
Consumer research and community outreach: Consumer questionnaires are measuring changes in perceptions towards waste management, recycling and the informal collection sector.
Education, knowledge sharing and capacity building: Educational interventions, materials and communications in schools and to selected adult audiences are being shared, to build an understanding of issues, and to dispel misperceptions about recycling.
Economic and enterprise development towards a circular economy: Upskilling and developing capacity is taking place with waste collectors involved in the trials. Interventions are ensuring that recyclables collected are kept within the circular economy and non-recyclables are diverted out of the environment where they do not belong.
Osborne said: "About 80% of what is recycled in South Africa is collected by waste collectors. This makes waste collectors an integral and fundamental part of our broader African recycling economy that should not only be recognised but celebrated.
"OCS not only helps reduce waste-to-landfill and litter in the environment, it can also support waste collectors by assisting to unlock the value of recyclable materials and create much-needed income opportunities."
Individuals or businesses can get involved with the OCS adopt-a-spot campaign by registering their clean-up area on the SST website.