On Saturday 17 September, 44 determined individuals united in a gruelling summit for a worthy cause. The Rhino Peak Challenge in the Southern Drakensberg – a 21km hike/run with over 1,300m of vertical climb – was their mission; and raising funds for rhinos, vultures, and cranes was their driving force.
A beautiful albeit windy day set the scene for the Challenge, with Elite Runner Jock Green being the first to cross the finish line with a time of 2:58:16.
"It was my first time on the Peak and it was beautiful. It was quite windy but I loved every minute of it," he said at the finish.
The team of three from Treverton College: sports co-ordinator, Travers Pellew and grade 11 learners Jarred van Alphan and Kai Broom all placed in the first five finishers with excellent times.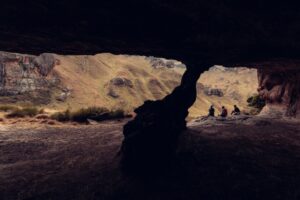 Find the full list of 2022 Rhino Peak Challenge Ambassadors and continue to contribute to their fundraising efforts here.
A race against extinction
While the 2022 Rhino Peak Challenge saw a number of exceptional athletes with determined grit, this race is not one for glory, but one against extinction. Each runner was tasked with raising funds for endangered species conservation and this year's Challenge, raised a record breaking amount of over R1.3 million.
The majority of the funds raised will be distributed to environmental NGOs the Endangered Wildlife Trust (EWT) and Wildlife ACT, whilst 10% goes to provincial conservation authority – Ezemvelo KZN Wildlife.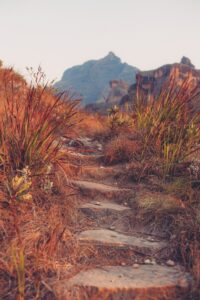 The Rhino Peak Ambassador who brought in the most funds was long-time Wildlife ACT supporter, Patrick Rüegg, who raised over R230 000.
Protecting black and white rhino populations
Wildlife ACT's vulture conservation work forms part of Project Vulture, the Zululand Vulture Project, Bearded Vulture Recovery Programme and the Maloti-Drakensberg Vulture Project. A significant portion of the funds raised via the Rhino Peak Challenge goes toward this essential conservation work. Funding will also be directed towards the dehorning of black and white rhino populations in protected areas.
"The Rhino Peak Challenge supports solution driven conservation work in the field. Summiting the Peak is no easy feat – congratulations to all the Ambassadors for completing the challenge and raising more funds than we ever have," said Wildlife ACT's Co-Founder Chris Kelly.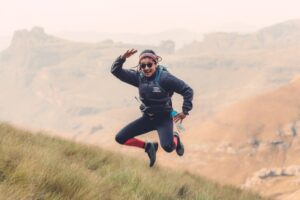 Tammy Baker, Business Development Officer for the EWT, joined fellow Ambassadors by participating in the challenge for the fourth year in a row.
"The EWT is extremely grateful to RPC organiser Spurgeon Flemington of RMA and Ford Wildlife Foundation for their ongoing support of our critical conservation efforts," said Tammy.
One of the EWT projects that directly benefits from Rhino Peak Challenge's funding efforts is the African Crane Conservation Programme, which aims to build human and ecosystem resilience within the core crane regions of South Africa to benefit people and biodiversity.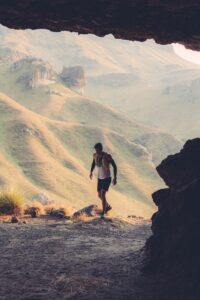 Support from across the world
While Ambassadors were summiting Rhino Peak, runners from across the globe showed their support by taking part in the '2022 RPC Global Run', which required a minimum donation of R100 in order to enter.
"A big thank you to all the sponsors and Ambassadors for helping us to raise a record breaking amount for endangered species conservation," says Challenge Organiser, Spurgeon Flemington of Running Man Adventures. "Looking forward to Rhino Peak Challenge 2023!"