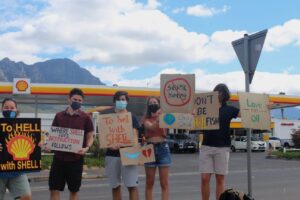 Following the widespread publication of plans by Royal Dutch Shell to conduct a non-stop, five-month-long seismic survey of South Africa's pristine 'Wild Coast,' national outrage has erupted.
The last two weeks have seen protest actions by communities and activist groups the length and breadth of our country, attempting to amplify the voices of our compatriots on the Wild Coast whose communities, and the ecosystems upon which they rely, stand to be devastated by the actions of international petrochemical corporations – actions proudly facilitated and promoted by the South African government.
A collective of traditional fishermen and women from across the Wild Coast powerfully summarise the top-down approach to community engagement taken by Shell, in the same vein as the company's colonial forebears:
"You neglected your duty of care towards us when you did not ensure that affected parties were consulted as well as not examining the harm seismic surveys will cause on marine lives and people's livelihoods who are dependent on oceans. Moreover, oil and gas exploration won't bring development to marginalised communities – we reject Shell seismic surveys."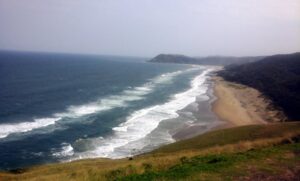 A seismic survey involves firing high-powered compressed air guns towards the seafloor, and assessing oil and gas deposits beneath by measuring the reflected sound. These blasts are due to occur every ten seconds for five months, and the sound generated can penetrate 40km into the seabed. The noise from these airguns can raise background ocean noise levels by 100 times for the duration of surveying, which has devastating impacts on marine life.
Many marine mammals which communicate and navigate using hearing are particularly negatively affected by seismic surveying. Multiple studies have argued that these animals are impacted via a wide range of pathways, including impaired communication, extended stress responses, and hunger due to impacts on prey stocks.
These impacts were raised in the founding documents of the second court case. Whilst the full range of impacts is unknown, marine scientists seem to be unified in their assessment that seismic surveying is intensely disturbing to ecosystems at every observable level. Nonhle Mbuthuma, of the Amadiba Crisis Committee, expresses this concern powerfully when she says:
"If you destroy the ocean, you destroy human life. Our livelihoods as indigenous people will be history if the South African Government allows Shell to mine our ocean, our spiritual healing place. Communities have the right to choose and we have the right to live in a healthy environment. As the Amadiba Crisis Committee we say no to any kind of extractivism. Let's put people before profit."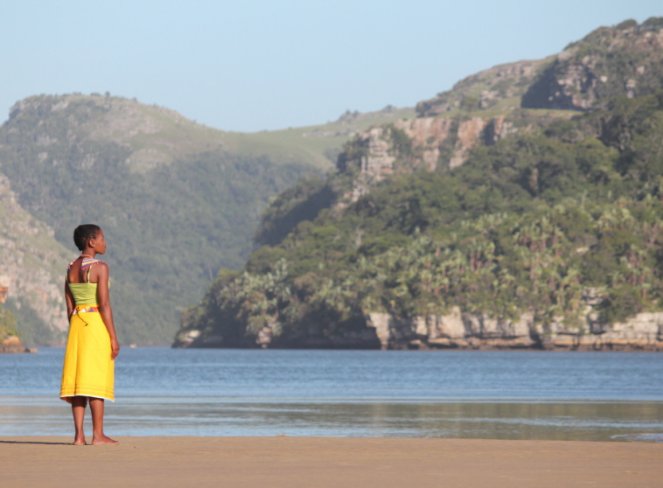 In addition, beyond the issue of seismic surveys, oil and gas companies have a terrible socio-environmental track record throughout Africa and the world. According to Amnesty International, with information based on reports from Shell itself, Shell leaked over 55 million litres of oil in the Niger Delta alone. A figure which Amnesty international calls "a massive underestimate."
Just one litre of oil can contaminate 1 million litres of water. This has obvious impacts on livelihoods and ecosystems in the affected regions. Communities who have lived in the Niger Delta region for generations, now find themselves unable to fish for food, or use their water for sanitation and irrigation of crops. The Niger Delta is now one of the most polluted places on earth.
A Dutch court recently ordered Shell to pay compensation to affected communities for oil pollution in some areas of Nigeria, but this will not return their lands and waters – their heritage – to its previous state capable of supporting livelihoods.
One resident of K-Dere, Nigeria said "When Shell came, they promised that if they find oil, they'll transform our community," while another resident of the same community said, "'Everything just died like that. [It] destroyed all the aquatic life in the stream where  we used to fetch water – our farmlands, every living thing there."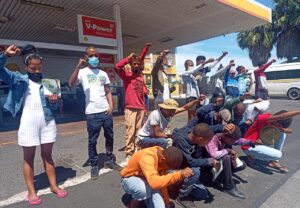 This is just one example that holds a lesson for us in South Africa, as oil and gas companies knock on our door.
As people band together in the face of environmental degradation and colonial exploitation, and activist groups continue to fight in the courts on their behalf, the Department of Mineral Resources and Energy has released a statement to the press seemingly making clear the role of the South African government: to share in the profits of big corporations at the expense of the people who are justifiably outraged at the uncounted losses that they will incur.
Gwede Mantashe today launched a tirade against communities up and down the Wild Coast, and those supporting them, appearing to describe grassroots activism as "apartheid," and seemingly dismissing their demands to be heard as "colonialism of a special type."
These disgusting invocations of South Africa's darkest moments, used against the very South Africans who suffered through those moments, remind us of the vast gap between the responsibilities and the actions of our government.
In his press conference, Mantashe attempted to justify the continued exploitation of fossil fuel resources by international corporations as a means towards a just transition. Mr Mantashe appears to deliberately misuse both the word "just" and the word "transition." It is international scientific consensus that in order to avoid the most severe impacts of the climate crisis, undiscovered fossil fuel deposits must remain just that: undiscovered.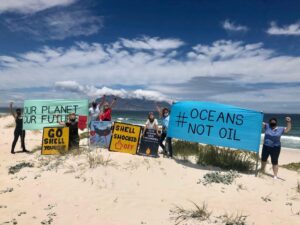 In a 2021 report published by the International Energy Agency it categorically stated that "No new oil and natural gas fields are needed," if we are to achieve net-zero emissions by 2050 and provide humanity with a 50%-66% chance of limiting climate change to 1.5 degrees. It is necessary to say, 1.5 degrees is still not ideal by any measure and will see much more devastating impacts across the social-economic-environmental nexus than those we already see now in South Africa and in the world that has so far warmed by 1.1 degrees.
It is also scientific consensus that the impacts of climate change will be most devastating to under-resourced people and communities. Does it make sense to begin building infrastructure and setting up industries that lead to much pain and suffering socially, economically and environmentally; and which we know unequivocally we must phase out to preserve the prospect of a liveable future?
Given all this it may be sensible to ask why Mr Mantashe would not only publicly support petrochemical megacorporations, but would also seem to describe grass-roots community activists – ordinary South Africans taking a stand for our national heritage – as perpetrating a kind of apartheid against these corporations? As always, the answer may be found by following the money.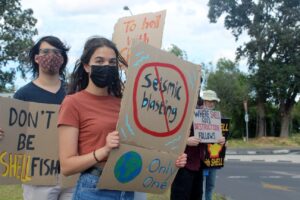 The ANC's investment arm, the Batho Batho trust, currently holds a 46.8% stake in Thebe Investment Corporation, which in turn holds a 28% stake in Shell South Africa. As South Africans, we need to ask the question:
Can we trust our ministers and our government to be objective in protecting our Section 24 rights, if the ruling party of that same government, those same ministers, have vested financial interests in oil and gas?
Environmental Organisations demand that the government tells the truth about the climate emergency, and acts immediately based on that truth. To allow Shell and other oil and gas companies free licence to continue to desecrate and exploit our shores, particularly with their poor history of such activities in other countries, is to willingly ignore the voices of the people of South Africa, and to actively endorse a colonial attack on our country, both through the direct impact of seismic surveying and fossil fuel extraction, and through the unfolding impacts of the climate crisis.
This is a particularly egregious betrayal, as our country warms twice as fast as the global average. Our ministers and oil and gas executives can use their wealth to insulate themselves from these impacts, but ordinary South Africans will have to bear the brunt of their actions and inaction.
By encouraging a boycott of Shell, in a way that protects workers, we also seek to send a message directly to the government of South Africa:
We as South Africans do not accept the continued exploitation of our people and the ecosystems within which we exist, and upon which many of us directly rely, by petrochemical profiteers. It is your duty as our elected representatives to put an immediate stop to Shell's activity within our borders.
We should not have to boycott businesses for desecrating our home and national heritage, it is your constitutionally mandated job to protect us and future generations.
Put our people over profit, choose our communities over oil, put our oceans – our national heritage – over destructive profiteering.
Do your job.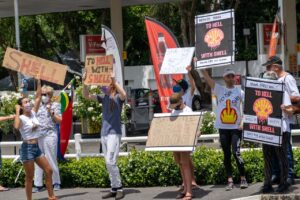 An open letter to Gwede Mantashe, from traditional fishing leaders:
Dear Minister Mantashe,
We are traditional fishermen and fisherwomen from all along the coast of South Africa, although most of us are from the Eastern Cape and KZN. Several of us live along the coast where Shell has applied for a permit to do seismic testing but they did not consult us at all.
We have heard you on the radio and read what you said about white people who are standing up and saying that South Africa should not allow seismic testing and we should not continue to mine our oceans for oil or gas. You say that they are acting against development and that this is like apartheid and colonialism. You have said they will make poverty and unemployment worse.
We would like to ask you if you know how many traditional, subsistence and small-scale fishers depend on the sea for our livelihoods?
Did you listen to what we said in 2016 when the Portfolio Committee on Environment came to ask us if we wanted the Marine Spatial Planning Bill? Did you take us seriously?
Have you heard what we have said to the Operation Phakisa Ocean Economy Master Planning process that is currently underway? Has Minister Barbara Creecy told you what we said to her when we met with her in April 2021 at the National Workshop she attended with us?
We would also like to ask you why your Department did not bother to make sure that Impact and Shell consulted us? Do you care so little about our children's lives and our livelihoods? You neglected your duty of care towards us and our communities when you did not ensure that they consulted us and you did not check that what they planned on doing would not cause harm to the fish we depend on to feed our families.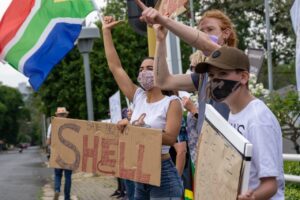 Are you aware that Oil and Gas mining does not create jobs for ordinary, poor rural coastal communities who have been marginalized, not just through colonialism and apartheid but are now being marginalized by our own government through Operation Phakisa?
We reject your simplistic dismissal of the resistance to Shell completely. In fact, we are not only resisting Shell, but we are saying we as Black, African fishers and ordinary South Africans have the RIGHT TO SAY NO TO MINING. We know that the African Charter on Human Rights gives us the right to choose our own path of development and to do what we want with our natural resources.
This is not about the West telling Africans what to do. We as Africans have seen what Shell has done to the livelihoods of Nigerians and Ghanaian communities. We choose a future for our children that is climate safe, where they will not be starving because we have destroyed our natural resources.
Are you aware that in fact the legal action cites YOU as the Minister of Minerals and Energy as the primary respondent in our case that will be heard on the 17th December? We believe that you and Minister Creecy both have a responsibility as Trustees of our oceans and coasts and our fish to protect them. Seismic testing will impact our fish and other marine animals.
Continuing to exploit our oceans will increase our carbon emissions and take our country into extreme poverty and hunger whilst a few will enjoy the wealth. We want well-being for all- not wealth for a few! We reject your attempt to divide the powerful opposition to Oil and Gas mining of the oceans. We call on all South Africans to please stand up and protect our oceans.
Blaming white environmentalists shows you are arrogant and have not bothered to listen to us, the people of the coast, the people of Port St Johns, of Centane, of Dwesa-Cwebe, of Xolobeni, of Amathole region. You insult us if you imply that this is only their struggle. This is all of our struggle. The sea is our Great Home.
It is the source of all life and is a sacred place as it is the home of many of our Ancestors. We are angry that you dare to question our beliefs and our choices. We ask you to respect our culture, our lives and our livelihoods and protect the future of all.
Yours sincerely
The undersigned leaders
Sinegugu Zungula from Xholobeni
Ntsindiso Nongcavu
Maxwell Sazise Pekayo
Mncedisi Mhlangala
Mashona Wethu Dlamini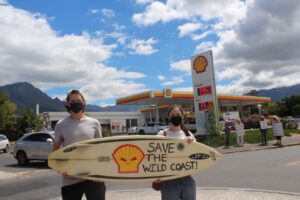 This movement is also supported by:
The African Climate Alliance is a youth-led grassroots organisation and movement advocating for socio-environmental justice through Afrocentric education, advocacy and action, whilst providing a safe and inclusive space for South African youth.
The Amadiba Crisis Committee was formed in 2007 by villagers of Xolobeni in Pondoland to fight mining titanium in their area. The Xolobeni village is situated in the Wild Coast in the Eastern Cape. The coastal Amadiba community's initial struggles against open cast mining, has been expanded to other forms of imposed "development," the ACC fights to preserve indigenous traditions, ecology, land and biodiversity while resisting resource extraction.
Extinction Rebellion is a global network and believes it is a citizen's duty to rebel using peaceful civil disobedience when faced with criminal inactivity by its Government. The Rebellion centres on demands for Governments to tell the truth about our dire situation and
to act accordingly, including to decarbonise our economy by 2025, in a mobilisation of war time like proportions.
Feed the Future is an NPO that works with youth and communities empowering them with valuable education around food and food security. The organisation has supported communities in setting up food gardens in Cape Town helping many who do not have regular access to food because of unemployment and other difficulties.
More recently, Feed the Future has used its relationship with communities to empower people with information on socio-environmental issues that impact them and support communities in making their voice on these issues heard.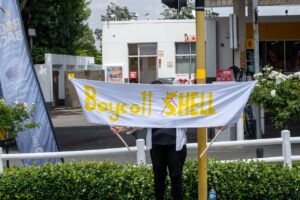 Greenpeace Cape Town are environmental activist volunteers in support of Greenpeace Africa and social and environmental issues that affect Cape Town, South Africa, Africa and our planet. They work with local organisations in the various countries, as their partners, to help them to let African voices be heard and African ideas understood. By finding and assisting African expertise and leadership, they hope to find real, sustainable solutions for the entire planet and a greener future.
Natural Justice is an organisation rooted in the struggles of communities in Africa. As a team of pioneering lawyers and legal experts, they specialise in human rights and environmental law in pursuit of social and environmental justice.
Oceans Not Oil sprang from a coalition of individuals and organisations coming together to stand against South Africa's continued fossil fuel dependence and call for a moratorium on all offshore oil and gas development. As such, it is a network that facilitates and supports any public voice raised against the impacts of escalating prospecting activities in the form of seismic surveys and exploration wells on the coast of South Africa and their consequences to marine life and climate change.
Project 90 by 2030 is a social and environmental justice organisation inspiring and mobilising South African society towards a sustainably developed and equitable low-carbon future.
They work with stakeholders and decision makers to identify policies and actions that support climate justice; with a specific focus on developing environmental leadership in our youth, and increasing people's ability to engage government – through active public participation – to address climate change, energy poverty and the social injustices that intersect in their communities.
Sustaining the Wild Coast supports sustainable development in Wild Coast communities through ecotourism and agroecology.
For more than 30 years the Support Centre for Land Change has been working with poor and vulnerable communities and other civil society organisations to advance land and agrarian justice and transformation in South Africa. SCLC focuses on the labour, tenure and human rights of farm and forestry workers and dwellers; access to land and resources for small-scale/subsistence farmers/producers; and support and solidarity for communities resisting land developments which threaten their homes, livelihoods, health and heritage.
They have been opposing fracking in the Karoo since 2012. They also, together with land and/or environmental organisations and community partners, launched the #BanFracking campaign in November 2018, calling on the South-African government to ban fracking and invest in a just transition from fossil fuels to renewable energy alternatives. SCLC stands in solidarity with the Wild Coast communities against Shell.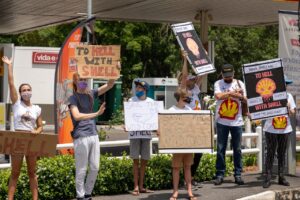 The Green Connection works with small-scale fishers and coastal communities around the country, in a bid to protect oceans, especially from oil and gas drilling. As part of its #WhoStoleOurOceans initiative, the environmental justice organisation, is raising awareness about issues of human rights, to empower small-scale fishing communities – historically marginalised and ignored – to confidently engage with decision-makers on issues that affect them and their livelihoods.
Environmental Justice Solutions works to build custodians of environmental and climate justice, and are based in Newcastle, KZN.
350 Africa is an international movement of ordinary people working to end the age of fossil fuels and build a world of community-led renewable energy for all. They work on and support grassroots campaigns across the continent, from opposing coal plants and mega-pipelines, to supporting renewable energy solutions and cutting the financial lifelines of the fossil fuel industry.
All of this work leverages people power — individuals working together in pursuit of a common goal — to dismantle the influence and infrastructure of the fossil fuel industry.