In South Africa, 10 million tons of food goes to waste every year and ends up in landfills. That's a third of the 31 million tons produced annually in South Africa. Fruit, vegetables and cereals account for 70% of the wastage. Meanwhile a quarter of our population is going hungry every day, with another quarter at risk.
The food wastage facts are documented in a WWF publication titled Food Loss and Waste: Facts and Futures, which discusses how reducing food waste through mechanisms such as food redistribution is fundamental to improving food security.
FoodForward SA (FFSA), established in 2009, is the largest food redistribution non-profit organisation in South Africa. FFSA recovers edible surplus food from farmers, manufacturers and retailers, and distributes it through 1 250 beneficiary organisations to now nearly 700 000 vulnerable people throughout South Africa.
"Our goal is to address our country's food insecurity crisis at scale through our FoodBanking model. Food insecurity existed pre-Covid-19, but has escalated dramatically during the pandemic," says FFSA's managing director, Andy du Plessis.
"In 2020 we distributed 7 215 tons of food to vulnerable beneficiaries. This converts into 29 million meals. Our food provisions are nutritionally balanced with a strong emphasis on providing staple foods as well as fresh fruit and vegetables."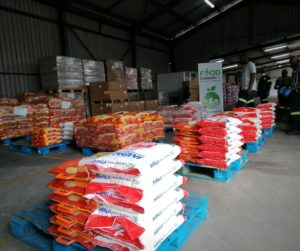 By February 2024 FFSA aims to increase its network to 2 000 beneficiary organisations, reaching one million beneficiaries daily and distributing 12 000 tons of surplus food. 'As part of this growth, we are using the three-year funding we recently received from the WWF Nedbank Green Trust. We are expanding our farmer network through our Second Harvest programme to access more post-harvest surplus food directly from commercial farmers nationally.'
At least 50% of all agricultural production is lost or wasted due to specification requirements (such as the size and shape for export) and cold-chain or processing inadequacies.
FFSA has scaled significantly over the past two years thanks to strategic partnerships, funders and donors throughout the value chain, including corporates, individual and international donors and trusts, all of which are essential to ensure they reach as many vulnerable people as possible. Their FoodBanking model is cost effective; it costs them R0,85 to distribute a meal.
Their food distribution operations cover all nine provinces. They now have seven warehouses countrywide, with two more opening in Mpumalanga and the Northern Cape within the year.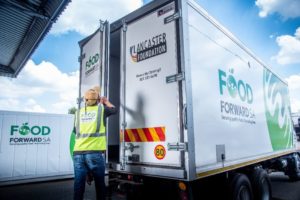 Regrettably, during the July unrest in KwaZulu-Natal their warehouse was looted, damaged, and all their food stocks and one truck stolen.
"We relocated to a temporary warehouse until ours was repaired; and appealed to the public for support so that we could continue operations," explains Du Plessis.
"The response was phenomenal. Such a lot of goodwill was shown and within two weeks we could resume operations."
All beneficiary organisations throughout the country are carefully reviewed and vetted to ensure they have accountability measures in place. The partnership with FFSA enables them to continue to provide critical educational and skills development, and health and social services in under-served communities.
"We initially partnered with the Western Cape Department of Health to identify vulnerable people at the household level in need of food parcels. The Household Food Security Programme has since expanded nationally, with the recipients identified by social and health workers, nurses and dieticians," says Du Plessis.
The food parcels vary from month to month depending on what the donors supply, including fresh food, perishables and non-perishables, as well as hygiene items.
To ensure the food reaches the intended beneficiaries FFSA has a digital monitoring platform called FoodShare.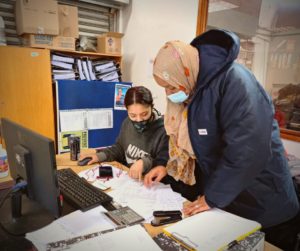 "The platform also serves to digitally connect the closest farmers, supermarket retail chains and manufacturers with the nearest beneficiary organisation to reduce costs," Du Plessis explains.
"We have a fleet of refrigerated trucks, which enable us to collect surplus food and also take food to 25 vulnerable rural communities across the country."
This innovative and successful food bank model illustrates to policy makers the value of designing fiscal incentives to integrate food donation as part of waste management and to reduce the carbon footprint. For every one ton of food redistributed, four tons of greenhouse gas emissions are saved.
"The WWF-SA study shows that the water and energy costs, together with the cost of disposing of food waste, mean that it comes at a very high price to the South African economy and environment," Du Plessis adds.
Climate variability, economic uncertainty and the prolonged pandemic mean that South Africa will continue to experience unpredictable and detrimental food insecurity at a local or national level. Well-managed food redistribution such as the FFSA model taken to scale, most certainly improves food security and reduces food loss and waste. As a champion of Sustainable Development Goal 12.3, the South African government is part of the global commitment to halve food waste by 2030 and is obligated to achieve this.