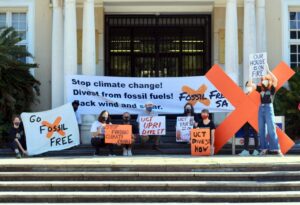 Climate activist group Fossil Free South Africa (FFSA) is "heartened" by the University of Cape Town Council's decision, announced today, to
divert the university's investments away from climate-destroying fossil fuels.
The news was announced in the minutes of the latest meeting of the UCT Council, which last met on 12 March 2022. Council noted that it had previously agreed in principle to divest from fossil fuels, and this decision would now be executed "in a responsible transitional approach."
The first step would be "the immediate divestment from internationally exposed fossil fuels investments and immediate investment in renewable energy and/or the green economy."
The second step would be investment in the local economy, working towards a goal of becoming net-carbon positive by 2030.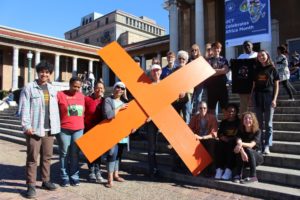 "We are greatly heartened at UCT's decision, which is an important act of leadership for other African universities and responsible social institutions," commented FFSA co-ordinator David Le Page.
"As a progressive and thought-leading institution, UCT has a pivotal role to play. Its divestment decision is both ethical, in shifting investments away from greenhouse gas production, and financially savvy, as fossil-free fund returns often equal or surpass those of traditional investment portfolios."
"Universities and philanthropies should be leading the way on sustainable and ethical investment. We thank the Vice Chancellor and UCT Council for their leadership, and hope that the university will collaborate on divestment with other progressive institutions.
"We do note that the announcement is not as ambitious on the domestic front as it could be, and should be ratcheted up as soon as possible."
"We also call on South Africa's top asset managers, which have all too often argued that asset owners do not wish to divest, to now move quickly to create segregated fossil fuel-free funds to serve investors with a preference for habitable planets."
Nine years in the making
FFSA has lobbied UCT to divest from fossil fuels since 2013, in partnership with the student-led Green Campus Initiative, and with the endorsement of Archbishop Emeritus Desmond Tutu. This pressure led to the university becoming the first in Africa to appoint a university responsible investment panel (UPRI) in 2017. In August 2021, the UPRI recommended that UCT divest completely from fossil fuels by 2029 at the very latest.
James Granelli, vice-chair of the UCT Green Campus Initiative said in response to the announcement:
"Today we recognise the victory and historic moment of the Council's decision to support fossil fuel divestment. We celebrate and thank the generations of students and campaigners who have worked on the campaign for eight long years to make such a decision possible; without them we would not be where we are today.
Although a historic decision, there is often a disconnect between intention and action when institutions make climate promises, thus we will believe it when we see the money moved out of fossil fuels, and will continue to hold the university accountable."
More drastic action on fossil fuels needed
The outcomes of COP26 showed that much more drastic action on fossil fuels is needed to prevent disastrous climate change, as governments have not yet made commitments that will meet the supposed ambition of the Paris climate agreement to limit global warming to 1.5C. Meeting this target now requires that global carbon emissions are cut 50% in the next decade.
Fossil fuel divestment has been identified as one of six key nudges that could help tip humanity towards rapid decarbonisation.
Fossil Free South Africa is a non-profit organisation and network of South Africans, part of the global divestment movement lobbying for fossil-free investments and restorative reinvestment in sustainable energy.
FFSA achievements include, with 350 Africa, pushing the City of Cape Town to become the first African city to commit to divestment in 2017; lobbying with the endorsement of Archbishop Emeritus Desmond Tutu to push the University of Cape Town to become the first African university with a responsible investment committee; workshops on divestment for asset managers and retirement funds; and the #InvestFossilFree campaign to which all South Africans with investments can join, to pressure asset managers to create fossil-free funds.
The global divestment movement has expanded to over 1500 institutions with over $40 trillion in assets under management, including universities and cities around the world. These include Oxford, Cambridge, Yale and Harvard Universities, Ireland, and the cities of New York, London, Paris, Melbourne, Cape Town and eThekwini, amongst many others.