According to the United Nations, with the world's population expected to top nine billion people by 2050, the world is going to need at least 55% more water. And not just water; clean water.
In most people's minds that would mean building more dams, such as on the Umkomazi River in KZN which at this time is largely untapped.
However, worldwide there are very few new large dam projects; formerly these were financed in large measure by hydroelectric power but today both solar and wind power costs have dropped to such an extent that building large dams is no longer viable. They also cause a loss of 40% of biodiversity according to some reports.
Worldwide large percentages of piped water is lost through ageing reticulation and general mismanagement; this is particularly bad in South Africa where little maintenance on the infrastructure in the last thirty years has been done; a figure of annual losses totalling at least seven billion rand is often mentioned. It would require a massive investment to reduce these losses significantly, money that cash-strapped governments simply do not have.
In KZN the premier has proposed a figure of R150 billion over the next decade to secure our water resources; where exactly this money will come from he does not say. The consensus in the literature is that a large new dam on the Umkomazi River would simply not be cost effective.
Reverse osmosis of seawater is one option but the technology is extremely expensive and demands large amounts of electricity that South Africa simply does not have; it's a non starter. And in any case the water would need to pass through the current defective reticulation where 50% or more would be lost.
Aquifers are another resource but there appears to be general agreement that the large scale use of ground water is simply robbing Peter to pay Paul; best reserved for emergencies rather than day to day water supplies.
Lastly, above-ground water supplies are becoming increasingly polluted with micro-plastic particles, used medication and even chemical sweeteners that are not digested but cleared in the urine. And of course the horrific pollution of our water supplies in South Africa with sewage. Government clearly has neither the will, the vision nor the capacity to remedy the situation; it can only get worse.
One domain of great concern that is rarely debated is that organic matter in some water supplies, such as that from Theewaterskloof Dam in the Western Cape, reacts with chlorine to form so-called THMs that are highly toxic to human beings.
All in all, there is no light at the end of the tunnel in SA with the current vision of planners. Water resources will become more polluted, less available, and increasingly expensive. It is becoming a highly emotive, political issue that could well lead to the fall of governments; the people are increasingly restless. "Where is our water?" It is unlikely service delivery will improve in most parts of South Africa in the foreseeable future.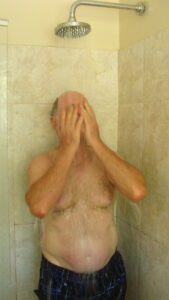 South Africa of course is not alone in facing this tragic unfolding situation; to a great or lesser extent it is happening the whole world over. Only here in SA the needs are now stark and government ineptitude has been laid bare for all to see. The Minister of Water affairs is a political appointment; the incumbent has absolutely no experience in the field.
One country that has taken a diametrically different approach to the supply of clean, potable water is the island of Bermuda. It's a situation that has been forced on them because there simply are no rivers or dams. They have had to give precedence to the harvesting and storage of rainwater. By law 80% of the roof of every home must be guttered, and have 30kl of underground storage for ever 100m2 of roof. Reticulation exists only for hotels and government buildings; every family must provide for their own needs. The official Bermuda website states: "The rain is one of the purest sources available and nears distilled water in its purity. Its quality almost always exceeds that from a well."
The Netherlands is another country where in the older parts, underground reservoirs in private gardens for the storage of rainwater is still to this day the norm.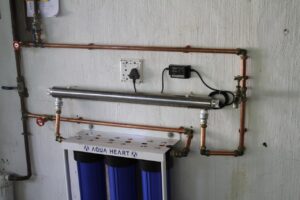 Rainwater in South Africa remains one of the largely untapped resources. According to the Mail and Guardian in 2019, roughly 70,000 tanks were being sold per year, with approximately 15 million households countrywide. Given that the lifespan of a plastic tank is less than ten years, certainly less than a half of all homes have even one tank. A gutter obviously is the first requirement.
An average city home would use at least 200 kl per annum; more if it was also being used to grow food. The average rainfall in the wetter parts of SA is roughly 1,000 mm; that would mean from a 100m2 roof at least 100 kl of rainwater could be harvested. According to the WHO, optimal use is at least 100 litres per person per day; 35 kl per annum.
Whilst steel tanks, having an estimated life span of 50 years, are perhaps the cheapest in the long run, they are simply far too costly for the average South African; they just do not come into reckoning. Both polyethylene and fibreglass tanks, whilst cheaper, require significant importation of resins of one sort or another. At around R5,000 for a 5,000 litre tank they are not cheap either. At least four would be needed for each and every home, depending on the length of the dry season.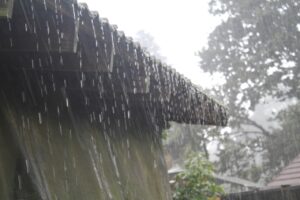 Underground reservoirs at private homes are not in favour, though there's no real reason given. Some are spurious, like rainwater is not potable and E Coli infection is highly likely, blithely ignoring the huge number of people infected by typhoid or cholera from polluted water; diarrhoea is the second leading cause of death amongst small children, greater than malaria, AIDS and measles combined. Reservoirs may leak is a valid reason that must be considered.
How large should that reservoir be?
Factors to be considered:
How many people will draw water from the reservoir?
How long is the dry season?
Will the water be used for irrigating food gardens?
What is the available guttered roof area to fill the reservoir?
Experience suggests that 2m deep by 5m diameter is a good size (38m3)
Underground reservoirs have many advantages over above-ground plastic tanks:
The water temperature is far lower even in hot summers; pathogens are less likely to flourish.
They can be completed in two weeks by a team of 8 strong men, including digging the pit by hand.
They create employment opportunities for semi-skilled people.
They use mainly locally available building materials; sand, stone, cement, poles, corrugated iron roofs.
If well constructed to approved standards the lifespan of a reservoir in indefinite.
Connecting UG110mm pipes from the gutters to the reservoir is inexpensive and simple.
Several houses could supply one centrally placed reservoir.
They would greatly reduce the current massive losses in reticulation.
There is no need for chlorination; no THMs.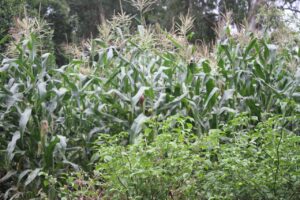 Harvested rainwater should first flow into a sump, roughly 1000 x 850 x 700mm deep; it should be large enough to allow a person to climb in and clean out all the detritus several times a year. The water then overflows into the main reservoir through a coarse filter.
The main reservoir does need to be emptied at least every two or three years and completely cleaned. Obviously some designated person has to take responsibility for care of the reservoir. Not unsurprisingly the water is extremely clean and potable; cisterns like this have been used for millennia for water for human consumption.
A small 700W electric pump that can send the water to homes and gardens is needed. Care has to be taken to ensure there are no leaks in the reticulation, otherwise the pump constantly cycles.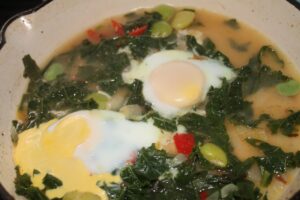 Steps for building such an underground reservoir:
Dig the circular pit, 2.5m in radius and 2m deep. It will take 4 strong men about 3 days.
Throw a slab with reinforced concrete, slightly thicker at the periphery to act as a foundation for the wall.
Build a double brick wall using brick force and galvanised wire for reinforcing. Backfill as the wall rises.
Plaster the wall to specifications so that it does not leak. Place treated poles in place to support the roof, and cover with corrugated iron.
Lay sewerage pipes from the down-pipes to the sump; this entry point is a weak area and must be carefully sealed.
Install the pump and connect to the reticulation. Electrical conduit.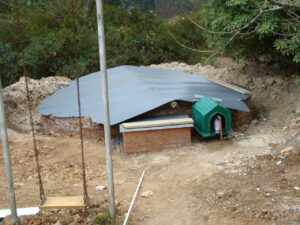 A reservoir built to these specifications can supply an unlimited amount of pristine water to homes for showers, toilets, drinking and cooking, and for irrigation of a vegetable garden in the wet season. Towards the end of the dry season the water may need to be rationed and used with care until the rains begin. One could add a filter if concerned about sediment.
Building materials and wages escalate obviously but the cost of such a reservoir would likely be in the region of R35,000; roughly that of seven plastic 5,000 litre tanks.
On a personal note, we built such an underground reservoir some ten years ago; plastering was not properly researched and eventually it had to be fibreglassed. Nevertheless the project has already paid for itself several times over and reliable high-quality water at zero cost is daily available both now and for the foreseeable future. We irrigate a very large food garden that supplies most of our needs.
By Barrie Lewis